Posts: 64
Joined: May 20, 2013
Location: Ohio
Thanks: 21
Thanked: 0 in 0 post
---
Alright someone is being really rude to me about posting in two forums. I'm new to this kind of stuff so didn't know the rules or what cross posting was. I'm just trying to get advice ..and don't want to upset anyone. I'm sorry everyone! I really wasn't trying to get quick replies. Also I'd like to thank mamasheepdog for merging my posts. I don't know how to that lol
---
Posts: 427
Joined: October 20, 2012
Location: Texas
Thanks: 27
Thanked: 24 in 22 posts
---
I saw one person mentioning it on here...probably meant it only in a way to let you know for future reference...but if someone is harassing you about it in private messages or something maybe message a moderator to let them know? If they are being really rude then the mods may step in for you.
---
Posts: 64
Joined: May 20, 2013
Location: Ohio
Thanks: 21
Thanked: 0 in 0 post
---
It's been settled. We talked it out and she explained herself in a better way.
---
MamaSheepdog

Moderator
Posts: 18729
Joined: November 3, 2011
Location: CA
Thanks: 1051
Thanked: 2489 in 1982 posts
---
alch0my wrote:I'm new to this kind of stuff so didn't know the rules or what cross posting was. I'm just trying to get advice ..and don't want to upset anyone. I'm sorry everyone! I really wasn't trying to get quick replies.
Hi Alch0my!
RabbitTalk is not as strict as many other forums, and we do not have any rules about "cross posting" at this time. We may need to implement that in the future as the forum grows, but as of now there is no need.
It is my understanding that it is considered poor internet etiquette to cross post, but I have very little experience anywhere but this site, so I am pretty clueless myself when it comes to proper form.
I don't know about other forums, but here on RT I have observed that usually new posts are responded to very quickly and by multiple users. However, sometimes even though there have been a lot of "views", people may not know the answer or they may not be members of the site, so you may not get as many answers as it seems you should have.
If you have any questions about how to use certain features, please don't hesitate to ask. I know I had a hard time navigating around when I first joined!
alch0my wrote:Also I'd like to thank mamasheepdog for merging my posts. I don't know how to that lol
You're welcome! Happy to help.
That is not a feature available to you. If you want a topic moved or deleted, the Mods or Admin need to do it for you.
Welcome again to the forum! I hope you find the information here to be helpful.
--Mamasheepdog
__________ Thu May 30, 2013 11:45 am __________
Ahem!
Now, back to the topic at hand... have you considered Mini Rex instead of Standard? They are very popular as pets and show rabbits, and still have that amazing Rex fur.
I think they would fit your needs much better than the Standard Rex, unless you are also considering a meat rabbit program.
Victory Garden Rabbits
Proud new owner of the highly coveted Get-away-with-it-card!
(Homer's gift to me in a feeble attempt to curry favor and avoid the ban hammer.)

I prefer dangerous freedom over peaceful slavery.

- Thomas Jefferson
---
Posts: 64
Joined: May 20, 2013
Location: Ohio
Thanks: 21
Thanked: 0 in 0 post
---
I have decided on mini lops and holland lops. I just love their little spunky attitudes lol. I purchased some quality mini lops and a couple nice holland lops from 2 really good breeders. I have to drive 4 1/2 hours to get my mini lops but they're going to be worth the drive. The female holland lop isn't as far and she's awsome. She's a real pretty blue otter. The mini lops I'm getting are a orange buck, frosty doe and a broken tort buck. They are all so adorable. Later on I'd like to get into raising mini rex or standard rex, but I think I should stick with lops for now. I do love Rex's though! I am getting a beautiful english angora soon. I got first pick of the litter ..so happy and excited. These are very nice english angoras with excellent pedigree. The angora is going to be one spoiled bunny lol.
---
Peach

Site Supporter
Posts: 2125
Joined: December 19, 2011
Location: Marietta,Ga
Thanks: 72
Thanked: 155 in 143 posts
---
Just remember, otter isn't showable with Holland Lops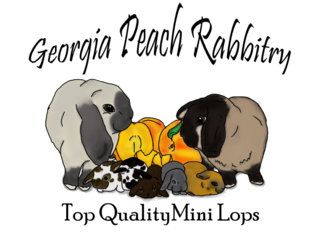 http://georgiapeachrabbitry.weebly.com/
---
---
Posts: 64
Joined: May 20, 2013
Location: Ohio
Thanks: 21
Thanked: 0 in 0 post
---
I didn't know that ...I love otter colored mini/holland lop. I need to read up on what colors are showable. Do you know where I can find that information?
---
Dood

Site Supporter
Posts: 6438
Joined: November 16, 2012
Location: Ontario
Thanks: 123
Thanked: 1773 in 1476 posts
---
Posts: 617
Joined: June 19, 2014
Location: Los Banos, California
Thanks: 11
Thanked: 64 in 57 posts
---
I dont know about standard rex, but i raise mini rex and mini lops. Both breeds are very nice breeds, but if you want more docile, i'd go with them mini lops... the mini rex are fairly docile, but they are very curious... the mini lops can be fairly curious, but they love a good lap
~Bandit's Bunny Farm
http://banditsbunnyfarm.weebly.com
"Generally, by the time you are Real, most of your hair has been loved off, and your eyes drop out and you get loose in your joints and very shabby. But these things don't matter at all, because once you are Real you can't be ugly, except to people who don't understand. But once you are Real you can't become unreal again. It lasts for always."
~The Velveteen Rabbit
---
Posts: 113
Joined: May 25, 2014
Location: USA
Thanks: 6
Thanked: 8 in 8 posts
---
Yay! Glad you went with the lops.
Otters are showable in Hollands.
---
Who is online
Users browsing this forum: No registered users and 1 guest