ipoGSD

Site Supporter
Posts: 415
Joined: December 21, 2015
Location: Hartford county CT
Thanks: 386
Thanked: 21 in 19 posts
---
Last night one of the cage door latches didnt get hooked right, at least that's what we are hoping! We do have a neighbor who is kind of off.. sees and hears things. I hope he didnt unlatch it? But it is possible to have not latched it right because it was dark. We had the bunnies inside for a few hours playing with them. (Lots are getting homes)
Woke up at 6am to find all the bunnies (but 1) and a mama got out. Took us an hour to round them up.
We found all but one until about a half hour ago. It was found in my dads yard next to my father's paving equipment. It was bleeding from a hole on its neck the size of a bb maybe a little bigger? And also bleeding from its nose. Dont know how long its been dead but rigamortis was set in.
What would kill a rabbit then leave it there? I was thinking maybe it fought with a wild rabbit then had a heart attack? Or a domestic cat bit it then it had a heart attack? I highly doubt it could evade a fisher and then lay there basically in the open and not be found? A fisher wouls put more than 1 hole in it too i would assume? We know it was only 1 hole because we sprayed it with the hose to see what happened.
My wife seems to think fisher cat, but even if we interrupted it, wouldn't an animal drag it off? I cant think of anything it could have impaled itself on.
We feel horrible!!!! We plan on replacing those latches today. Like i said i hope even tho we feel bad that it was our error vs the neighbor. I would think if it was done on purpose all the doors would have been opened. Tho locks might have to be an option in the future.
-- Tue Sep 13, 2016 8:34 am --
This is the latch im talking about. At night its hard to see in the back yard if we dont have a flash light. I took this pic with the latch like this to show what im talking about.
-- Tue Sep 13, 2016 8:38 am --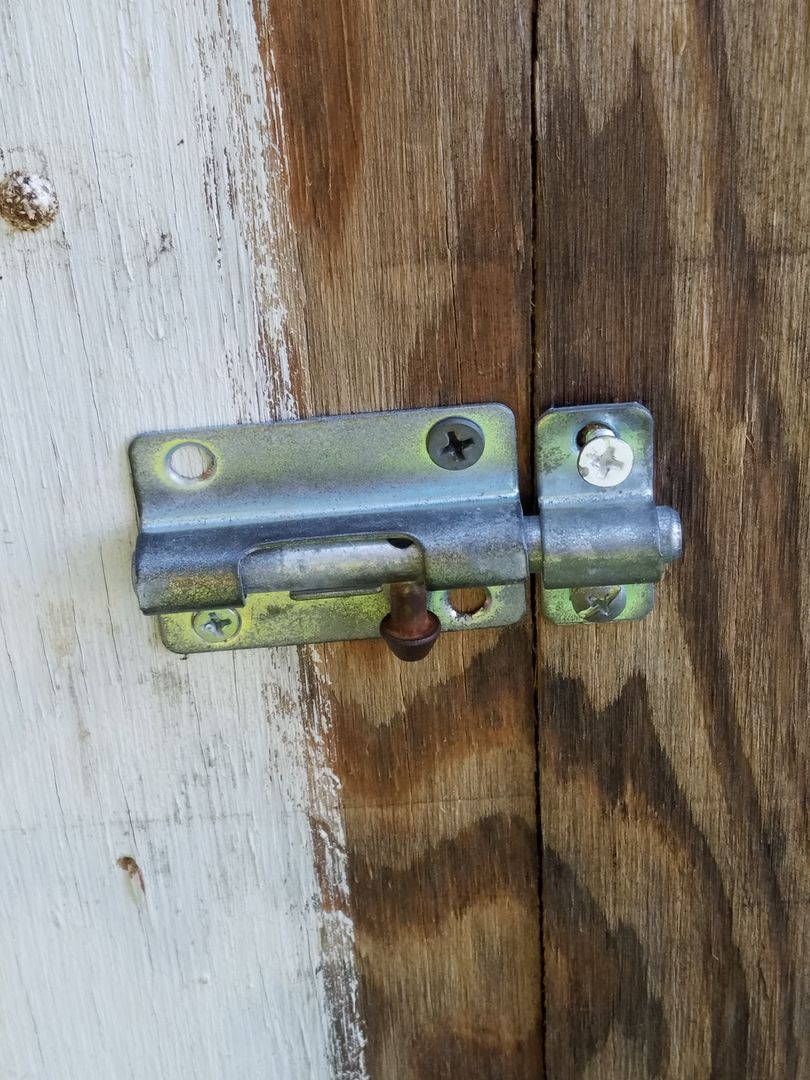 These are the ones we plan on getting to replace those spring eyelet latches. Even at night, its fool proof.
I honestly feel like crying. Bad enough some end up as food but they arent petrified or in pain when they go.. so mad at ourselves.. we both were out there when we put them back, so we both missed it..
-- Tue Sep 13, 2016 8:49 am --
One of my fathers workers just thought of something. My father has a wood pile near where it was found. Some of that wood does have nails in it?
So hard to know what happened? I just know it was 1 hole, on the side but towards the top of its neck and it was bleeding from there and a little from the nose
Either way we are going to us the rabbit in a have a heart trap, if it was something we dont want it coming back to attack the cages
---
michaels4gardens

Site Supporter
Posts: 2482
Joined: December 6, 2013
Location: Piney Flats ,Tn.
Thanks: 1528
Thanked: 751 in 589 posts
---
do you have someone near by with a pellet gun?
meat-mutt rabbits, a few laying hens.
---
---
FourRingCircus

Site Supporter
Posts: 1882
Joined: May 11, 2015
Location: NC
Thanks: 45
Thanked: 198 in 185 posts
---
michaels4gardens wrote:do you have someone near by with a pellet gun?
I was wondering that as well...
Formerly known as "heritage"
Homeschool mom of 4 little ones -
9
,
8
,
6
, &
4
!
Our
Four Ring Farmstead
journey will be on hold for a few years as we take on a new adventure in WV! Maybe a new focus on gardening in a cooler climate...
---
---
ipoGSD

Site Supporter
Posts: 415
Joined: December 21, 2015
Location: Hartford county CT
Thanks: 386
Thanked: 21 in 19 posts
---
I didnt even think of that!!!!! The neighbor shoots the squirrels!!!!!!!!!!!
-- Tue Sep 13, 2016 10:23 pm --
I cant even open the rabbit up to see if theres a pellet inside of it. My wife disposed of the rabbit.
I bet you that is exactly what it was!!!
The guy (who is off-trying to word it nicely) is in his 40s he shoots the pellet/bb gun at anything in their yard. The father whos in his 80s used to but not so much anymore.
I hope to GOD we were the ones who left the cage unlocked! Otherwise this situation could get ugly, fast!
The son, thinks aliens & trolls are always stealing things and out to get him. The mother & father said they themselves are afraid the son will shoot them (they have real guns also) its somewhat scary living by him. I think the parents told us how their son is as kind of like a warning.
I bet my life it was the son!!!!!
---
Site Admin
Posts: 16907
Joined: December 16, 2009
Location: South Eastern Ontario
Thanks: 938
Thanked: 2647 in 2028 posts
---
Sounds like it's a good time to step up security in your rabbitry. I doubt your neighbour let the rabbit out to shoot it; if that was the case, he wouldn't likely have stopped at one. But there is an excellent chance that he saw the rabbit and decided to have a little target practice.
I think I'd go with padlock hasps and lock everything down at night or if you are going to be away for the day. Your neighbours sound like scary people to live near.
---
ipoGSD

Site Supporter
Posts: 415
Joined: December 21, 2015
Location: Hartford county CT
Thanks: 386
Thanked: 21 in 19 posts
---
Maggie,

It really is scary living by them. Its not the mom or father. They are very sweet and i give bunny berries to them and they give me fresh veggies. But the son.. he is the scary one.

My bedroom window is right next to their driveway, ground level. And he sleeps in his car a lot because of the aliens and trolls stealing from him. I understand fully about sicknesses. I am not judging nor talking bad about him. I have illnesses that run in my family too. Im just saying we are truly afraid of him and fear sleeping with our window open for a nice breeze.

The mom has said 2x to us they are afraid the son will shoot them. So we havent even attempted to run it by them about the rabbit possibly being shot with a bb/pellet. Just letting it go. Considering 8 rabbits (mom & 7 babies) were loose for possibly the whole night.. Losing just one, it could have been worse! Not that it doesnt make me feel horroble... but ot truly could have been way worse.

We have a fence along that side but down by the rabbits theres a path thats easy to walk thru the brush. I plan on putting 2 more pieces of fence up to block it off. So if the son wants to get to my rabbits, he has to walk by my door. With 4 dogs i doubt he would get by without being noticed.

Last year the cops pulled out sooooo many guns from their home, maybe 20? 30? The son is on probation (don't know why?) and they arent supposed to have any guns there. But I know they still do, the mom just showed me a beautiful chrome hand gun, it's some collectable one but its a real gun. I dont dare report it. What happens when he's released again? No ty! Everyone around here owns their homes so no chance on anyone moving anytime soon. Even if both parents pass.. the home will end up in the sons hands.

Best to keep the kids from making too much noise. Keep the dogs from barking and shut our mouthes.
---
Posts: 1168
Joined: February 26, 2015
Location: South TX
Thanks: 84
Thanked: 147 in 137 posts
---
Oh goodness, this sounds like a bad situation. I think I would consider looking to move if i was you. I would not want to spend the rest of my life next to someone like that, who I always had to wonder what they would do next. I know all about shooting animals in the yard with a bb gun, we do that with opossums, squirels, and coons. We live in town but behind our house is a field, so its a nice home for critters. But never would my husband shoot anyone's pet, probably not even a wild rabbit that may come into the yard. We don't do that to stray cats either. He is more of a selective eliminator of varmits rather than anything else tho, so I think its different. I just know that you need to feel somewhat comfortable in your own home. I feel that if it was us, we would also keep quiet and not do anything that might work them up, but would start getting a plan together to get out......
---
Who is online
Users browsing this forum: No registered users and 1 guest