Posts: 136
Joined: May 3, 2015
Thanks: 45
Thanked: 14 in 14 posts
---
Hey guys,
So.. all the supplies for my new watering system came in today BUT.. hubby wants to use some kind of pump to circulate the water through the lines. However, he isn't sure what KIND of pump he needs to do this or how the setup would work. Could somebody kindly explain this to me and let me know what kind of pump I need to order? It's a relatively small system for about 16 fonts, under 100 feet of line.
Thanks in advance!
---
Posts: 1406
Joined: January 13, 2014
Location: Southern Nevada
Thanks: 65
Thanked: 228 in 207 posts
---
Depending on what size barrel or bucket, a good idea would be to use an aquarium in-line pump. About 30-80 gallons an hour. Again depends on size of system.
---
SarniaTricia

Site Supporter
Posts: 717
Joined: August 18, 2016
Location: Amherstburg, Ontario
Thanks: 142
Thanked: 152 in 138 posts
---
Most auto water nipples are not set-up for anything but gravity level pressure....

Please check your nipples for pressure restriction or you could damage them or cause the nipple to squirt water at the rabbits when they try and use it, then they will be scared of them....
---
Posts: 2000
Joined: January 25, 2012
Location: plattsburg, missouri
Thanks: 72
Thanked: 631 in 388 posts
---
Check this out.... it may help you a great deal.
All of your initial questions are answered along with
pics to help you with installation.
watering-system-pvc-schedule-40-pics-beginning-to-end-t12974.html
Grumpy.
Author of Historical Romance Novels:
The Trilogy of
: Box of Dreams, Scarlet Dreams, and Shattered Dreams.
My newest work: Now in publication.

Redemption Road.
Visit my website for more information.
http://www.ekfelts.com
---
Posts: 217
Joined: September 15, 2010
Location: Hawaii
Thanks: 11
Thanked: 37 in 35 posts
---
Instead of a pump to circulate the water, I put a hose bib at the end of the run and that's what I use to fill water bottles, wash hands, water plants, etc. There's enough water use to keep it fresh and no need to run electricity to the rabbit area. Although I may do that anyway eventually for lights.
We use a stock tank float valve in the top of the bucket to keep the bucket filled for the systems here. With screen mesh over the top to keep mosquitoes and bugs out.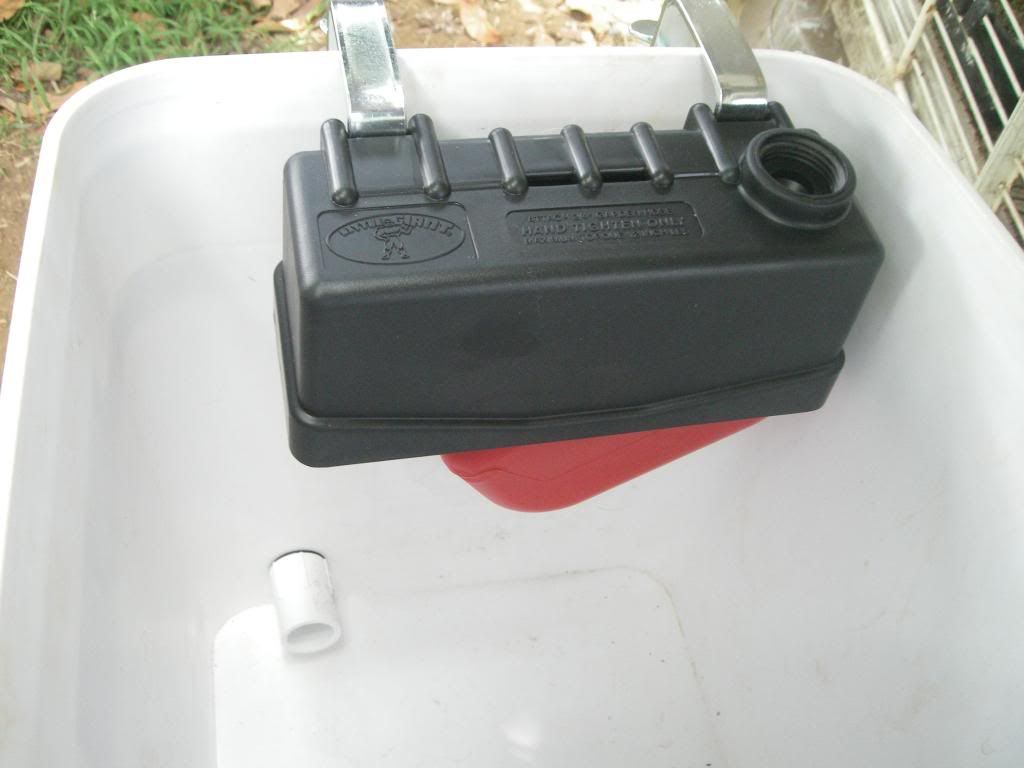 A garden hose attaches directly to the water valve, so it's a real easy installation. For the PVC going out of the bucket, it's a slipfit to a male threaded fitting on the outside of the bucket. A big fat rubber O-ring and then a threaded fitting on the inside to keep it all snug. Since it's a very low pressure system it doesn't need much to keep it from leaking.
How much head (distance in height between where the pump gets the water and pumps it out) does your system have? Small pumps usually can't lift water very far.
---
Who is online
Users browsing this forum: No registered users and 2 guests