ipoGSD

Site Supporter
Posts: 348
Joined: December 21, 2015
Location: Hartford county CT
Thanks: 328
Thanked: 12 in 11 posts
---
I had lots of little pieces that I saved from making the cage. Mainly the little 45 degree pieces from the braces. I drilled holes in them along with a few kids abc blocks that I had left from making other toys. I drilled holes in different spots so the wood pieces wouldn't be uniform while hanging. Adds a little more unique look to the hanging pieces
Then I asked my sister if I could borrow some of her cake decorating food coloring. (Concentrated wilton gel food dye) mixed a glob (full tip of butter knife) of it in a cup of hot water to make sure it fully dissolved.
Added that to a bucket with more hot water- just enough to fully submerge the blocks of wood. Added the blocks. Stuck one bucket on top of the other to keep them under the water. The top bucket I used a plastic lid with a coffee can to weigh it down.
I let them soak I for a little over 24 hrs. Now they are drying fully outside. Gotta let them fully dry before storage or they can mold. I used to do this for my b&g macaw. If you want colors to pop leave it in for 24 hrs. I'd say soak a minimum of 8 hours. It takes a while to soak up the color. first time I did this yrs ago. It was a fail lol didn't let them soak long enough and didn't use the right kind of dye. (I used the liquid drops)
It saves money, it's a fun project to do with kids and it keeps my bunnies happy and teeth healthy. I plan on using sisal rope to string them.
-- Wed Apr 27, 2016 5:40 pm --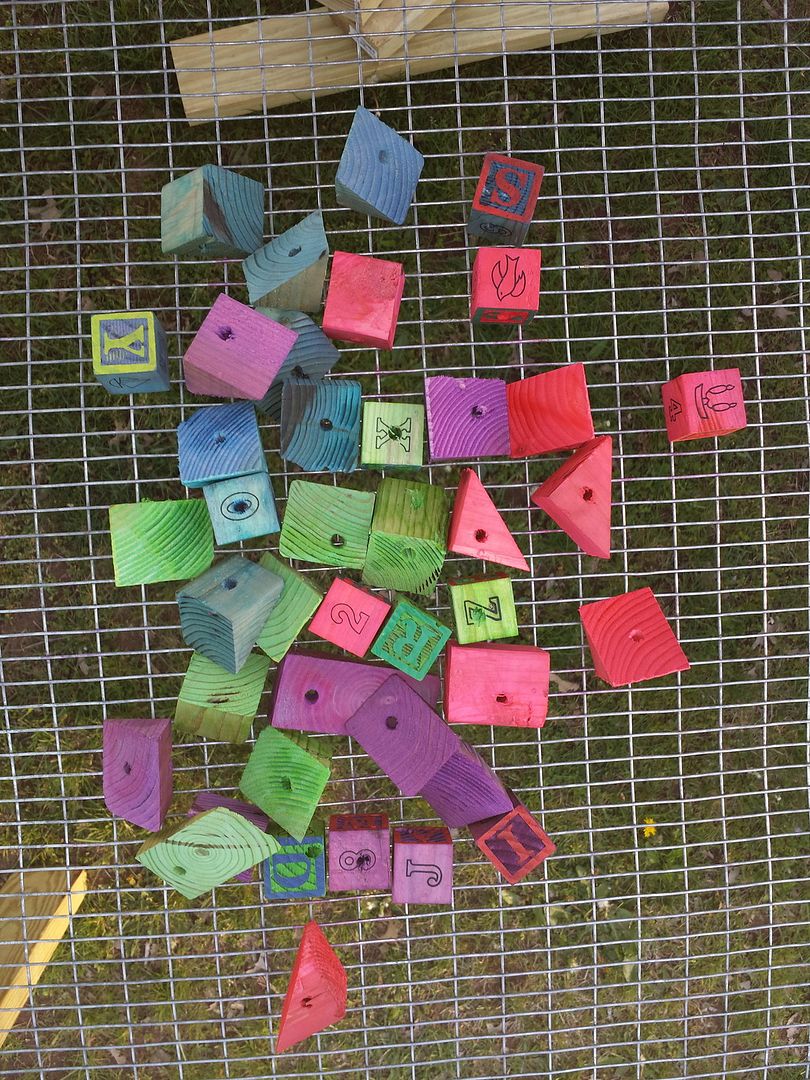 ---
Posts: 155
Joined: April 27, 2016
Location: Kenosha, WI
Thanks: 45
Thanked: 58 in 40 posts
---
Cool idea! I might do this when I get my rabbits.
---
---
HOWsMom

Site Supporter
Posts: 414
Joined: June 10, 2015
Location: Ontario, Canada
Thanks: 196
Thanked: 42 in 39 posts
---
Cool idea - might have to "borrow" this !
George (black Dutch), Chaos (Broken Chocolate Mini Rex buck) & Mischief (Broken Chocolate Mini Rex doe)
Fionn (REW Mini Rex buck) & Ballach (Brk. Black Mini Rex doe) - not shown
Also home to 1 dog, 1 cat, 1 guinea pig, several degus and fish, some kids and a husband
---
Posts: 90
Joined: October 29, 2014
Location: Guelph, Ontario
Thanks: 8
Thanked: 13 in 10 posts
---
Be careful with the sisal rope. I haven't found any that doesn't smell horrible, it tends to be oiled which isn't good for them, smells like gasoline. I was going to try either hemp rope or paper twine instead for mine. Unless there is a pet safe sisal supplier available. But I'm in Canada so there tends to not be as much choice here so maybe that is the issue..
---
Who is online
Users browsing this forum: No registered users and 1 guest