Posts: 1438
Joined: December 20, 2010
Location: Alaska
Thanks: 6
Thanked: 62 in 52 posts
---
So My wife was given baby polish to grow out (head isn't there but has a good butt, which her line is weak on) as our friend doesn't like to drive into town were the pet store is, and her neighbor let his hawk go...

So it's a 'chocolate' out of two blues, which is making me think Lilac, but I have never seen the color, and even though he looks a little frosted, he actually looks pretty good color wise.

So, I know what I think he should be, how do I check? The eye color what?
---
Posts: 7133
Joined: July 17, 2010
Location: Iowa
Thanks: 1
Thanked: 1076 in 953 posts
---
Lilac and chocolate are pretty easy to tell apart just by coat but the eyes are also different. The color ring in the eye matches the coat color so chocolate for chocolate and grey(lilac) for lilac.
Ignore twix's grumpy attitude but it's the best pic I have of a chocolate with the chocolate eye ring showing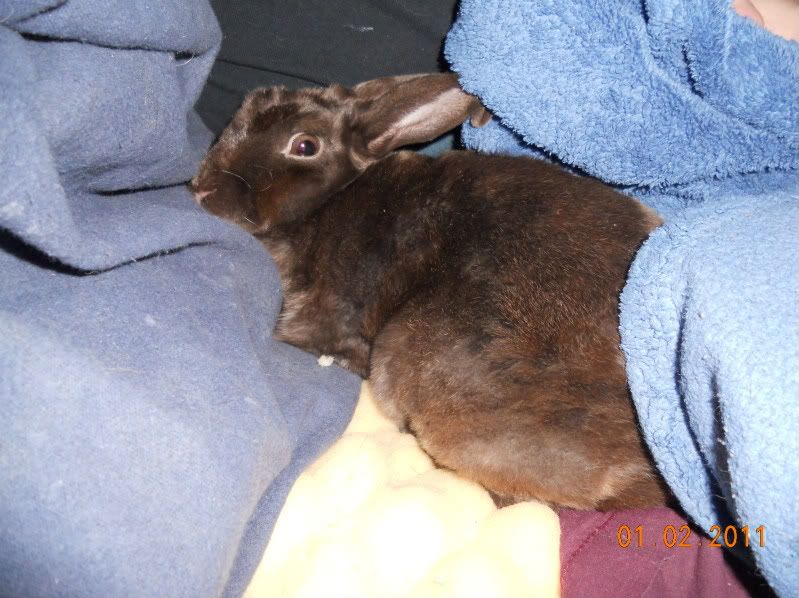 And a Lilac with a narrow but visible color ring.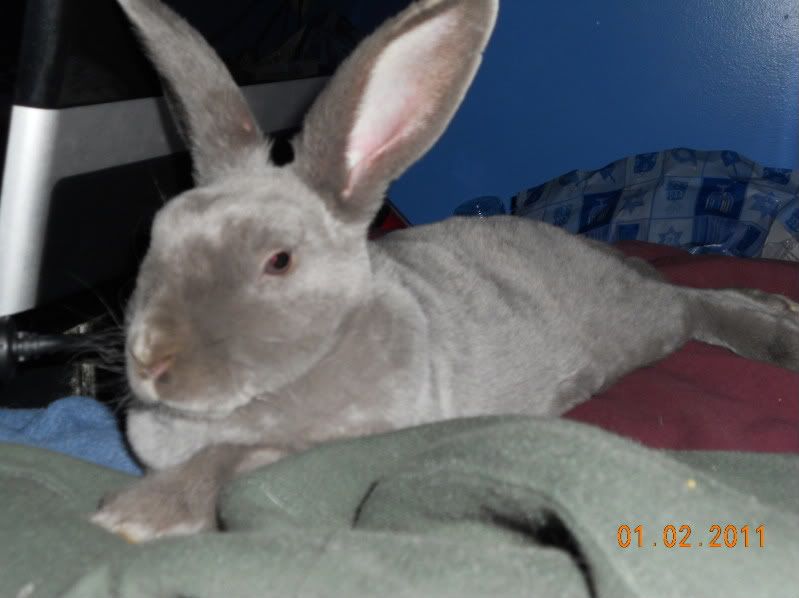 ---
Posts: 1438
Joined: December 20, 2010
Location: Alaska
Thanks: 6
Thanked: 62 in 52 posts
---
Oh, so I guess I should mention, that there is no pedigree with the rabbit (she hates computers, so until it's a deff keeper, no need for the fuss)
but
it's a chocolate, my wife's friend actually kinda complained about his color, but she is curious as one one side there should be great color, the sire is a beautiful blue, but the broken black doe is from her super grandchamp buck, who still comes out afew times a year (at over 7) to take Best of Breed (it's kinda not fair, but there isn't a geriatric class, LOL)
but he still has a fluff coat LOL and has to be caught at just the right time to show, and he passes it on.

So she thinks the blue is stronger in the undercoat due to the daddy, and the the baby has gramps super fluff baby coat, but yeah, from the eyes and ear tips, it's a chocolate, and a sweet one at that.
Last edited by
Jack
on Wed Jan 12, 2011 4:16 pm, edited 1 time in total.
---
Posts: 892
Joined: January 5, 2010
Location: Barrie Ontario
Thanks: 3
Thanked: 61 in 53 posts
---
Chocolate polish
I don't have a picture of a lilac polish but 2 dilutes cannot produce a full colour. So either it's not a chocolate or the pedigree is wrong.
Devon Ward - Certified Trick Dog Instructor and Pet Photographer.
---
Posts: 252
Joined: December 26, 2009
Location: Ontario
Thanks: 2
Thanked: 21 in 20 posts
---
Jack wrote:the sire is a beautiful blue, but the broken black doe is from her super grandchamp buck
So it's not actually out of two blues, but out of a broken black doe bred to a blue buck? In that case chocolate is not an impossibility
~~~~~~~~~~~~~~~~~~~~~~~~~~~~~~~~~~~~~~~~~~~~~~~~~~~~~~~~~~~~~~~~~~~~~~~~~~~~
Down the Rabbit Hole -
Harlequins and New Zealand (black, blue, and broken)
---
Posts: 1438
Joined: December 20, 2010
Location: Alaska
Thanks: 6
Thanked: 62 in 52 posts
---
yea, my wife had the does mixed up
---
Who is online
Users browsing this forum: No registered users and 2 guests