Posts: 557
Joined: September 26, 2010
Location: south central idaho
Thanks: 19
Thanked: 3 in 3 posts
---
I have a mini rex and a standard rex. one is black all over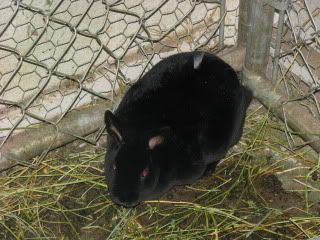 and one is black with brown chin
what are the color names on these and what can i breed to the brown black one to get another like her? I love her coloration
---
Posts: 2033
Joined: August 1, 2010
Location: upstate New York
Thanks: 1
Thanked: 309 in 256 posts
---
Is there a same colored triangle between the ears?
Sounds like it may be an Otter.
You can create more by breeding to a Black.
breed the offspring back to the parents.
Doe to Sire Buck to Dame.
Ottersatin.
---
Posts: 7533
Joined: December 26, 2009
Location: near London, Ontario
Thanks: 46
Thanked: 818 in 696 posts
---
the one is black, the other is black otter. Black otters are VERY pretty rabbits.
---
Posts: 892
Joined: January 5, 2010
Location: Barrie Ontario
Thanks: 3
Thanked: 61 in 53 posts
---
Black and Black otter.

The Otter colour can be bred to any self colour (Black, blue, chocolate, lilac) and you'll get about 50% otters (although any selfs in the litter will not carry otter) or you can breed an Otter to an agouti (Castor, opal, amber, lynx) and again you'll get about 50% otter with a chance that any agouti in the litter also carries otter.
Devon Ward - Certified Trick Dog Instructor and Pet Photographer.
---
Who is online
Users browsing this forum: No registered users and 4 guests