Anntann

Site Supporter
Posts: 2945
Joined: December 21, 2009
Location: South Central Wisconsin
Thanks: 10
Thanked: 104 in 90 posts
---
I"m thinking that instead of doing boxes for the girls in the indoor colony, that I'll be better off making a long tunnel along one wall of the pen...like a long box, about 12" high, with an opening on each end on the side...and a solid divider in the middle. Something like MacyBaby's nest boxes...with a hinged top that I can lift up to see what's going on inside. It would also give them (the does) a shelf the size of the nests...so they don't lose any room in the pen.
My other option is to build 3 nest boxes and just place them in various places in the room. Last time the 2 does used the same box and shared kits quite happily, but I don't think I should rely on THAT happening again
Thoughts? Ideas? Words of Wisdom?
---
Posts: 7533
Joined: December 26, 2009
Location: near London, Ontario
Thanks: 46
Thanked: 818 in 696 posts
---
all the above? I do like the tunnel idea, though if they are used to nest boxes I'd be inclined to keep two or three in there as well. Let the does choose what they want to do.
---
Site Admin
Posts: 16911
Joined: December 16, 2009
Location: South Eastern Ontario
Thanks: 941
Thanked: 2653 in 2031 posts
---
One thing I like about the tunnel idea is that the kits won't be dragged out when momma finishes nursing. If they do hang on a bit, they will have a good chance of being able to crawl back to the nest. You might want to make the whole top fairly easy to remove (screws instead of nails) in case any die in the tunnel and need removing.
---
Anntann

Site Supporter
Posts: 2945
Joined: December 21, 2009
Location: South Central Wisconsin
Thanks: 10
Thanked: 104 in 90 posts
---
hmm. I could hinge the whole top in sections. That would actually make it easier to build.
I'm probably going to make 2 "tunnels". Each one 3feet long (maybe 1 4feet and the other 3feet 6inches) as complete boxes. Top will be 2 sections - 1foot and 3foot, both hinged. I'd like to make them lockable so the buns can't lift them up, but then they might catch a side on the latch...so maybe magnets..have to experiment.
If they're separate, I can move them around more easily. I like portable
floors...What do you think? I could use a 1/4" hardward cloth, or pegboard, or just plain wood. If I do the wire or pegboard, I'd have 1/2 inch feet on the boxes so that it would breathe. But is that necessary? (I use a pegboard base in the nestboxes and don't seem to have any problems with moisture or cold..but the critters are inside, so cold isn't a problem anyway)
__________ Tue Apr 20, 2010 9:38 am __________
Posted a photo of the tunnels over in the gallery under "housing" with a short explanation of them
gallery/image_page.php?album_id=8&image_id=152&sk=t&sd=d&st=0
When I finally put the first one in the colony, all three pregnant does decided to abandon the old nest box and the "tub" and just dove into the new tunnel. They have created a lovely huge nest at the far end of that ONE tunnel box. Lots of straw. It would appear that they have decided to just co-nest again. There is plenty of room for expansion if the first to deliver gets, er, touchy.
I know I'll have to keep an eye on the situation to make sure doe 1 doesn't remove other popples as they are delivered. They're inside the house, so at least I won't have to worry about freezing.
__________ Tue Apr 27, 2010 5:26 pm __________
Turns out that the idea of tunnels, no lip, was a good idea already! After they kindled, the does have been going in and out to check on the critters. Apparently CB went in and one latched on and got dragged out to the front of the tunnel.
When I went up just now to do an actual count maybe...I found this little girl (if I keep calling it a girl, it will stay a girl, right?) right at the front entrance, crawling back blindly toward the others. Dont' think she would have made it back tho...ARGHGHHH...now I'm going to get paranoid about it. They're so tiny and delicate I just couldn't do a count. Couldn't make myself pull them out of their nice warm bed.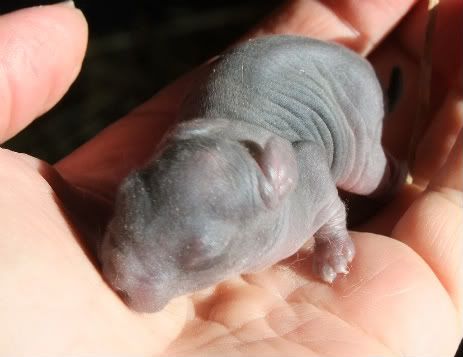 ---
Posts: 1603
Joined: December 21, 2009
Location: Ontario
Thanks: 16
Thanked: 18 in 18 posts
---
you can count em fast and return em ...
---
Who is online
Users browsing this forum: No registered users and 1 guest