Posts: 493
Joined: September 15, 2010
Location: Hawaii
Thanks: 27
Thanked: 196 in 151 posts
---
The bunnies here are all angoras and almost all of them are English angora. I've basically been breeding the same stock for the past ten years with just a few additions to the herd over the years. This is the first time this particular color has shown up. What color is it?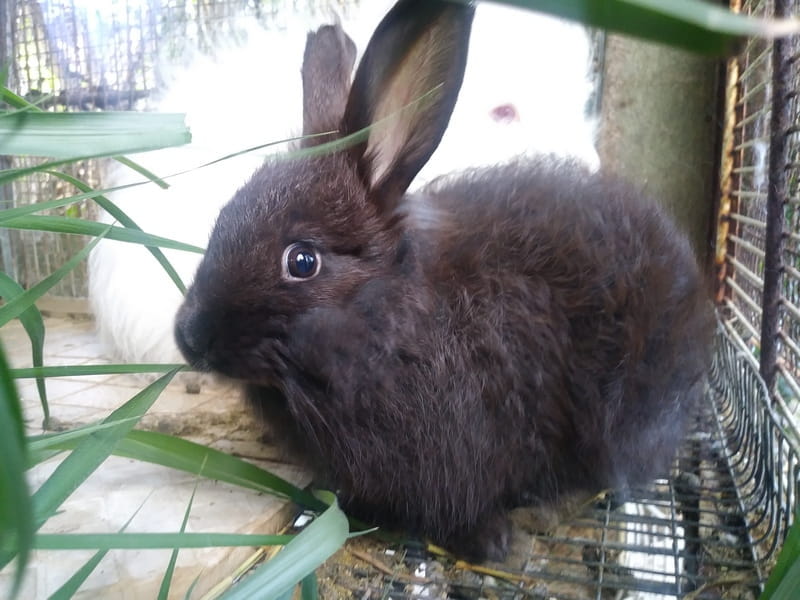 This is the 'black baby' at seven weeks old. I'd thought she was black when she (at least I think it's a 'she') was born. But since then she's become 'not-black'. She's not chocolate, though. Is this Dark Sable?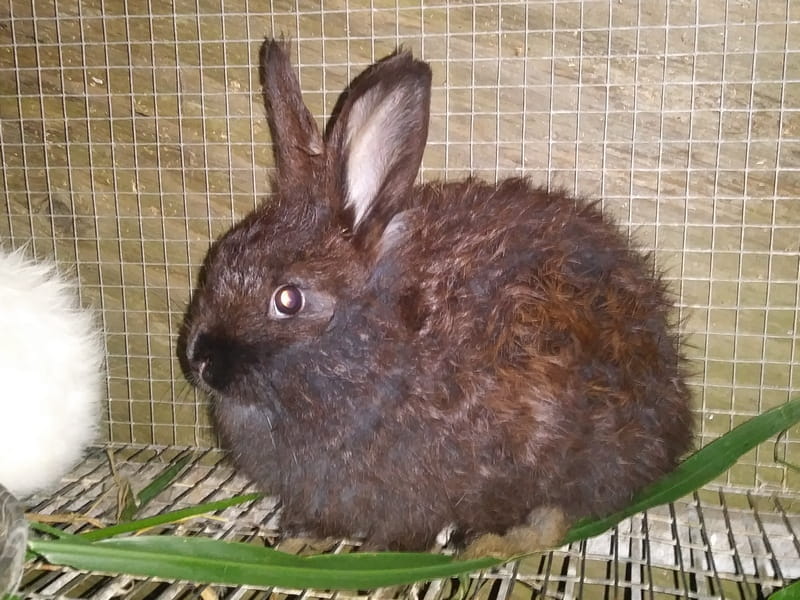 The flash on the camera really brings out the brown, in real life she's a much more black looking bunny.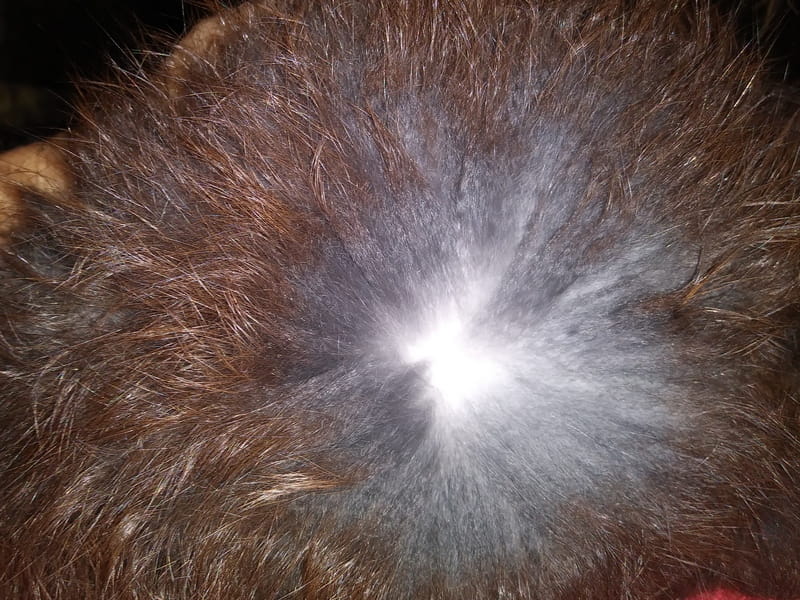 The wool seems to be gray underneath?
FWIW, the dam is a Ruby Eyed White with a genetic color code of: aa _b cc _d _e. The REW's parents were a chocolate and a tortoiseshell. She was bred back to her sire, the tortoiseshell. His genetic color code is: aa Bb Cc Dd ee.
This is a pretty inbred litter, but the buck was being shipped off island so I wanted to concentrate his genes in a litter before he left. He's a tort out of an agouti and black.
So what color is that little rabbit?
---
Zass

Site Supporter
Posts: 6359
Joined: October 6, 2013
Location: northwest PA
Thanks: 1890
Thanked: 1765 in 1425 posts
---
Is she sun scalded, or urine stained?
---
Posts: 493
Joined: September 15, 2010
Location: Hawaii
Thanks: 27
Thanked: 196 in 151 posts
---
She's seven weeks old and in a wire hutch floored hutch so no urine scald. Pretty shady hutch and only an hour or so of early morning direct light, not sure how she'd get sunburn.

I've had several other rabbits who had the white undercoat next to the skin, but none of them have been this dark brown/chocolate color. The nose - without the camera flash - looks 'almost black' or 'not-quite-black', but when sitting next to an actual black rabbit, it's obviously different from black rabbit. Although even a black rabbit's coat will fade to silver by the time it's long enough to harvest (she's an English angora) so this one may not stay dark when the coat is ready to harvest.

This is the first time this color has shown up in the herd here. I'm not quite sure what color it is, or what the genetics may be.
---
Posts: 7562
Joined: December 26, 2009
Location: near London, Ontario
Thanks: 46
Thanked: 833 in 708 posts
---
i'd be calling that sable. That "off-black" is sable-y.
---
Posts: 493
Joined: September 15, 2010
Location: Hawaii
Thanks: 27
Thanked: 196 in 151 posts
---
Yeah, I was thinking 'sable', too, BUT in order to be sable, she would have to have the 'light chinchilla' gene of 'cchl'. The C genes have that incomplete dominance thing. In order of dominance, it's C, then dark chinchilla, light chinchilla, Himilayan and then finally albino.

C
cchd
cchl
ch
c

The sire is a tortoiseshell who has REW offspring, therefore he must have a "Cc". No room for the light chinchilla gene necessary for a dark sable bunny. The mum bun is a REW which is 'cc'. No room for the light chinchilla gene there, so she can't have the light chinchilla gene, either. No light chinchilla gene, no sable bunny. So the little one isn't a dark sable, but I haven't a clue what she is. She is 'not black'.

Maybe some sort of modifier on the 'B' gene? Is it possible to have some sort of something between black and chocolate on the B gene? It doesn't seem related to the dilute gene. Could it be some sort of modifier on the 'e' gene? The sire is tort which is 'ee'. Hmm. Maybe instead of blocking the full extension of the black color leaving just the yellows, only the black color got blocked leaving chocolate? That doesn't sound right but maybe a direction to explore?
---
Who is online
Users browsing this forum: No registered users and 4 guests