Posts: 1
Joined: June 26, 2020
Thanks: 4
Thanked: 0 in 0 post
---
I'm thinking of building the following with a few modifications (different roofing, roof slanted backwards not forwards, etc.). I can't decide whether I should use wood sides as shown in the picture, or wire. Is the wood going to get sprayed on and gross?

https://www.instructables.com/id/Kid-Friendly-Rabbit-Hotel/
---
Zass

Site Supporter
Posts: 6372
Joined: October 6, 2013
Location: northwest PA
Thanks: 1900
Thanked: 1771 in 1430 posts
---
The wood will definitely get sprayed on if you have boys.

I'm going to go ahead and guess it's slanted forward to provide a bit better protection from wind, rain, and sun.

How it's best to build yours will definitely depend on your climate.

The wood provides protection from drafts and harsh sunlight, which can both be damaging to rabbits, and the hutch with wood sides pictured would be easier to wrap up in winter than an all wire cage bank, but it does get gross over time..

In NW PA, I prefer all wire cages hung under some kind of roof. It's just easier to wrap up a whole building in winter, than it is to wrap up a cage bank. Of course, whatever I wrap the building in gets sprayed on too, and needs replaced every couple years...
---
---
Preitler

Site Supporter
Posts: 807
Joined: February 15, 2014
Location: Austria
Thanks: 128
Thanked: 298 in 224 posts
---
Well, I have wooden hutches, and well, yes, the sides aren't a lovely sight, but so what, that doesn't hurt or stink, just dried up white spots. I wash them down about once a year.
Now I soak the boards of new hutches with a mixture of linseed and sunflower oil, that helps a little. The lower 4" are covered with a strip of stainless steel (since I get that for free from work), but that's more to direct any pee to the pans underneath.

I'm not sure those coated wire shelf will survive rabbit pee in the long run, anyway, it would be good enough for many years. Thanks to the discussions about chickens in wire cages over here wire floors, let alone wire cages, are pretty much considered animal cruelty by people with no clue, I use a oil treated wooden grate as floor.

I don't have any problems with Cocci, may it be thanks to the local climate, or because all rabbits here are kept here that way for ages, so there would be quite a resistance. That might be different in other regions, and other breeding lines.
Last edited by
Preitler
on Tue Jun 30, 2020 10:19 am, edited 4 times in total.
---
---
michaels4gardens

Site Supporter
Posts: 2619
Joined: December 6, 2013
Location: Piney Flats ,Tn.
Thanks: 1706
Thanked: 828 in 651 posts
---
I try to stay away from using wood anywhere rabbits can reach it.
I use metal roofing for the sides, when I need protection from the wind.
as well as for the roof...
The open space between floor wire should be 5/8 or 1/2 inch, other spacings are problematic..
meat-mutt rabbits, a few laying hens.
---
---
Posts: 522
Joined: September 15, 2010
Location: Hawaii
Thanks: 29
Thanked: 215 in 163 posts
---
On that instructables plan, I'd have several issues with it. The wire floors they suggest is similar to some wire racks I used for some of the first hutches that were built here and ended up with some broken legs when they got their foot stuck while running. All my hutches are now made with 1/2" x 1" welded wire mesh. It's sturdy enough and yet doesn't have the long slots that can catch bunny feet.
Backing the hutch up against a building can later leave a mess behind, although the instructable folks do put a wooden wall between the two. The very first hutch I built didn't have the wall in the back between the hutch and the building.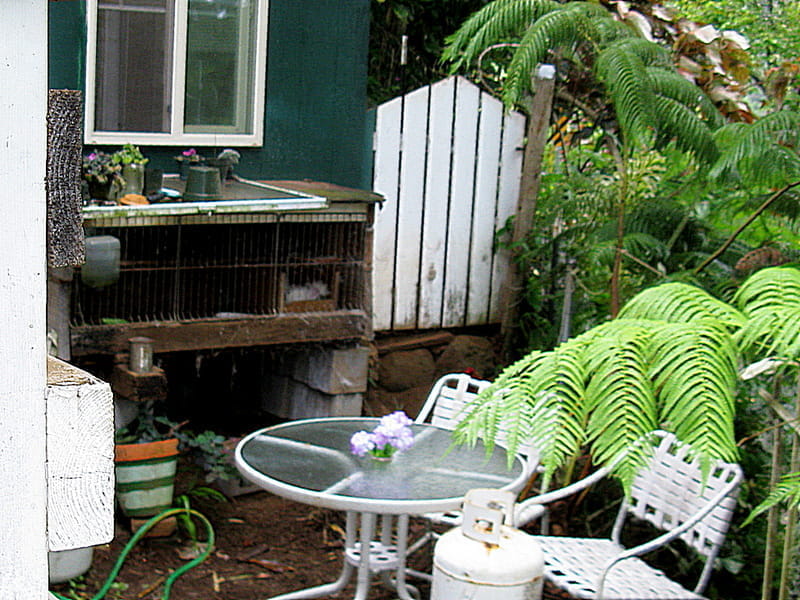 When it was removed, there was a mess left behind.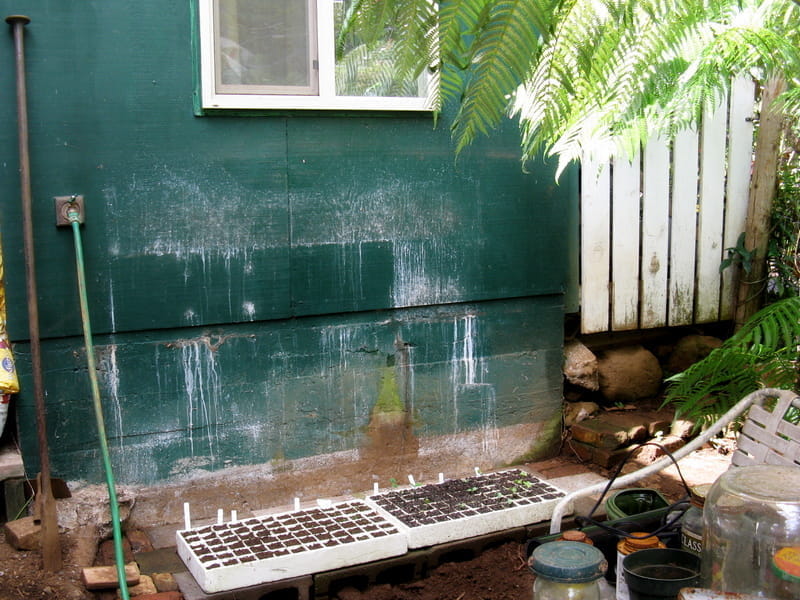 A good scrubbing and coat of paint fixed it, though.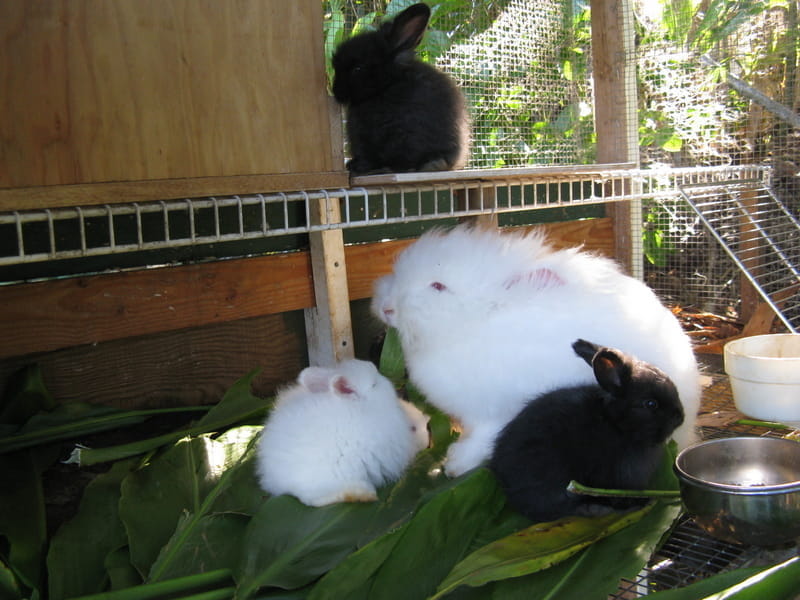 This used the same sort of long closet rack for flooring and they would get stuck feet so I put ceramic tiles in to cover the wire.
When building hutches, the first thing that I've noticed to need replacing or repairing is usually the flooring. Which, the heavier wire racks would last longer than the 1/2" x 1" welded wire mesh. However, I now build modular and replaceable floor plates so when one needs repair, it can be taken out and easily replaced with the old one refurbished for the next repair.
---
---
Who is online
Users browsing this forum: No registered users and 1 guest