Posts: 1093
Joined: December 4, 2014
Location: North Carolina
Thanks: 217
Thanked: 68 in 60 posts
---
I was about to start slowly building some new cages, something I've needed to do since I started basically. I know how I want to build it and was gonna use yardgate wire from Amazon as it's held up well when I used it in the past. Well prices have skyrocketed on that wire and the 1"x1" wire is no longer available by yardgate, only "one left" according to the only available seller.
I'm trying to stay as affordable as possible as Sars has put a huge hold on my entire years plans for my garden and rabbitry, well that and we bought a new to us car which was even more needed.
If you know of any good wire brands, trying to keep it under $35 for a 25 ft roll of wire, will consider 50' roll if it's under $80, I likely won't be able to afford a 100' roll as they tend to be well over $100 and out of two people I'm the only one working (he was about to start his job but now all restaurants are closed)
Any and all advice and links are greatly appreciated! I figured I'd post here before Facebook because I like you guys and respect your opinions far more than Facebook, this place is way more limited in people and much more broad in knowledgable of people (sorry if my English sucked, it seems the longer I've been out of school and the more I try to relearn German the worse my English and grammar gets hahaha)
Edited to add a link:
https://www.google.com/search?q=rabbit+ ... Etm65yk7fM
That's what I want to build btw, the photo is too large to share on here and if I shrink it I'm gonna lose the little quality that photo has. If you think I can build something better within my price range, send me links, photos of your own, etc.
Thanks to anyone and everyone who replies in advance!
@Happydalerabbits on Facebook
---
Zass

Site Supporter
Posts: 6320
Joined: October 6, 2013
Location: northwest PA
Thanks: 1864
Thanked: 1734 in 1402 posts
---
http://www.klubertanz.com/
This is my go-to company for cage parts. I don't know their current going rates tbh, so I do not know it it meets your price requirement, but they do come pretty highly recommended.
-- Sat Mar 21, 2020 10:20 pm --
Looks like they have 50' of 18" 14 ga 1x1 for $72, but shipping will definitely add to the price.
---
Posts: 1093
Joined: December 4, 2014
Location: North Carolina
Thanks: 217
Thanked: 68 in 60 posts
---
I'll definitely be checking that out! Seems like I've had that site before and lost it who knows how long ago, now to start slowly stock piling until I can build everything.
@Happydalerabbits on Facebook
---
Posts: 442
Joined: September 15, 2010
Location: Hawaii
Thanks: 25
Thanked: 163 in 126 posts
---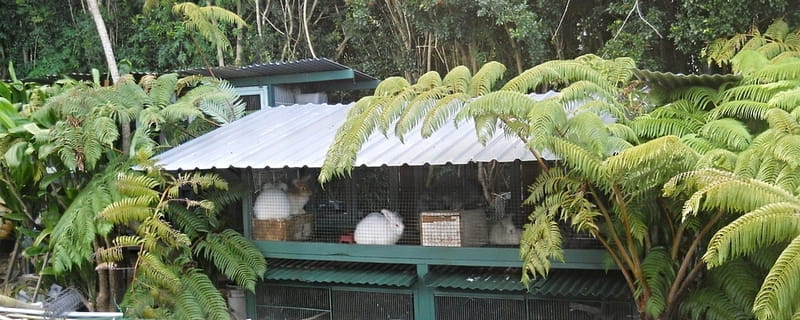 we build huge hutches really inexpensively since we have access to refrigerator racks from our local 'transfer station' (i.e. dump). Refrigerator racks are great for sides and doors, they aren't good for floors since the wires are too far apart and bunny feet get caught in them.
We've been using 2x2 pine frames with wire stapled to it since that's about as inexpensive as it's possible to get. We get the tin roof, the refrigerator racks for the sides and other miscellaneous things from the dump. But, we buy the floor wire and the wood framing new. It runs us about $120 for each big hutch.
To make a big double layer hutch, we start by making six matching 'floor plates'. If you want a single layer hutch, then you'd only need three. They're about 32" x 32" although they could be longer on one side as long as they were 32" on one side since that's as wide as the roll of 1" x 1/2" wire. Then we make a matching number of doors, which are also made of the 2x2 with wire stapled to it. Then we build a big rack to hold them, that's 2x4 legs with 2x8 cross pieces. Well, here's a website all about it:
http://hillsidefarmhawaii.com/pages/hutches/modularhutch.html
They've been in use for three or four years, next time, I'll make them one layer since the bit of roofing between the layers needs to be cleaned fairly frequently. If it was one layer of hutches with everything falling below, it would be easier to keep clean.
---
Posts: 1093
Joined: December 4, 2014
Location: North Carolina
Thanks: 217
Thanked: 68 in 60 posts
---
I'll definitely check that out when I'm off work tomorrow! We only have one dump that recycles and they don't usually have stuff like that from what I've seen.
@Happydalerabbits on Facebook
---
Who is online
Users browsing this forum: No registered users and 3 guests