JessiL

Site Supporter
Posts: 233
Joined: May 7, 2013
Location: Reno, NV, USA
Thanks: 0
Thanked: 35 in 24 posts
---
Hi all, it's been a while since I've posted, hope all are doing well!

So my 3.5 year-old (human) has been doing the picky pre-schooler thing recently, and often refuses meat on the bone. But she has yet to meet a sausage she doesn't like! So I think I'm going to try making our own rabbit sausage.

Any tips? Is there any way to speed the process of going from whole animal to ground? Am I really just going to have to debone with a knife and ideally invest in a quality meat grinder?

And if anyone has any particular recipes to suggest, I'm all ears! Unfortunately she also really strongly prefers cased sausages, I probably can't start out just doing loose bulk sausage...
---
Homer

Site Supporter
Posts: 1788
Joined: November 30, 2013
Location: Pueblo, CO
Thanks: 290
Thanked: 475 in 395 posts
---
We have a Cuisinart stand mixer that gets used almost daily. Bought a meat grinder attachment for it and love it. Comes with 2 sizes of sausage stuffing tubes. I buy the casings at our local meat market but can be had online for less. Mixer is less than $300 and gave ~100 for the grinder.
Great for making bread using the "hook". A whisk and flat paddle are also included.
SM-55BK
SM-MG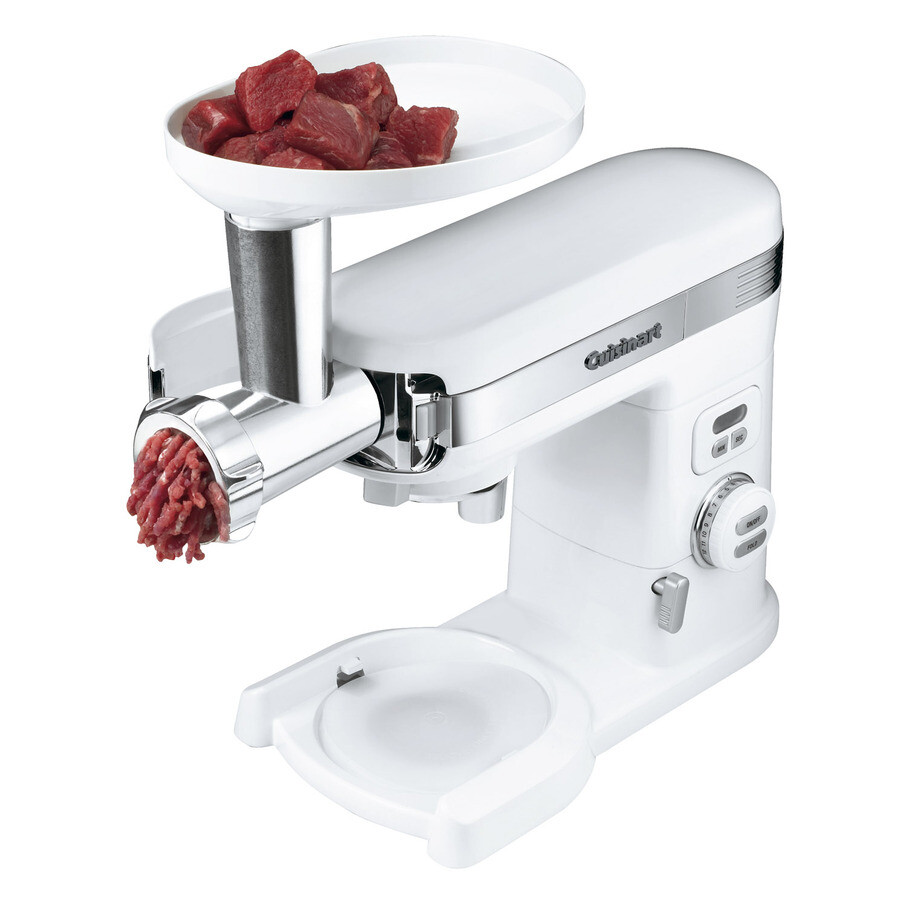 $65.00 on ebay!
https://www.ebay.com/itm/Cuisinart-Large-Meat-Grinder-Attachment-NEW-in-Box/163694185889?epid=1285572052&hash=item261cef0da1:g:CGMAAOSwzZBc3t0e&frcectupt=true
We chose the Cuisinart 12 speed stand mixer over all the others because it has an all metal gear train. I saw to many reviews of the "others" where they failed in that area. We've been pounding on ours for about 12 years now and love it. You can't go wrong.
edit: That plastic spill guard on the mixer causes more trouble than it was worth. It pops right off and now lives at the county dump somewhere.
Previous owner of the elusive and much sought after
"Get Away With It"
card.
---
---
alforddm

Site Supporter
Posts: 2809
Joined: August 11, 2014
Location: Idabel, OK
Thanks: 58
Thanked: 717 in 586 posts
---
Yep I have the same thing with a Kitchenaid. I just bought the one they had at Walmart which turned out to the smallest one. One of these day's I'm sure I'll burn it up but so far it hasn't happened and I've had it for a couple of years. Hubby promised me he'd buy me another one if I kill this one since I use it so much.
---
JessiL

Site Supporter
Posts: 233
Joined: May 7, 2013
Location: Reno, NV, USA
Thanks: 0
Thanked: 35 in 24 posts
---
Thanks all. I'm about 2/3 of the way through on my first trial batch. I ended up borrowing a buddy's Cabela's meat grinder (he is a big time hunter), and once I figured out how to assemble it, it made short work of the 4.25 pounds of meat I pulled off of two mature culls. I just deboned them by hand, skipping on doing the front legs but making sure to strip every last bit of backstrap possible. It took me about 15 minutes per animal, but I'm sure with a little more practice I can get that down to 10 minutes or so. I usually just joint my rabbits, it's been a while since I've attempted to debone.

So now that meat is sitting with an additional 2 pounds of ground pork and letting the flavors from the "white Polish" sausage seasoning mingle. I'll stuff it into hog casings tomorrow, hopefully after borrowing that same buddy's crank sausage stuffer.

So far, so good. If it continues to go smoothly, and if the final product is tasty, I think I'll try to keep doing it again. We do have a vintage Kitchenaid stand mixer, I'm not sure whether it will be worth it to save a few bucks by getting the grinder attachment or if I should just go for a stand-alone grinder. Anyway, I don't think I'll mind front-loading the prep work if it means I can end up with something that is quick to cook - and guaranteed to be eaten by the preschooler and toddler. It's getting a bit old, being the primary person who eats rabbit other than the loin... especially when I have 11 litters out with their moms, ready to start getting processed in another 4 weeks.
---
---
Homer

Site Supporter
Posts: 1788
Joined: November 30, 2013
Location: Pueblo, CO
Thanks: 290
Thanked: 475 in 395 posts
---
Sounds like you're well on your way to cornering the sausage market Jessi.
There are tons of seasoning mixes out there to try. Most contain enough to make 25# of goodness for about $4. Enjoy!
Previous owner of the elusive and much sought after
"Get Away With It"
card.
---
---
Who is online
Users browsing this forum: No registered users and 1 guest