Posts: 862
Joined: May 2, 2016
Location: California, US
Thanks: 444
Thanked: 221 in 179 posts
---
Shea wrote:Congrats on the red Nymphadora! I am one gen away from getting reds and torts in my littters. As long as one of these nice kits getting fat for me turns out to be a buck and friendly, i will have some very pretty kits come fall.
Thank you! It definitely wasn't expected, and of course DH has already fallen in love with our little redhead. Why does he always go for the colors, rather than the best growers...?
(He's adding to my color projects with each litter it seems).
I'll wish you luck with a good chunky buck to carry some torts and red into your nest boxes, too!
We never did get a litter out of Janey last time, so I bred her tonight, along with Juvia. I'm hoping this time I've spread my litters out better. The last couple weekends got entirely taken up with processing because I'd gotten behind schedule and had a bunch of grow-outs to do at the same time. I bred both to Odin (really interested in Juvia x Odin, they should grow pretty chunky), so Elf gets a turn next time we breed. I get better growth from Odin, but Elfman passes on good fur and rich color. Anyway, the buns are (hopefully) in the oven!
Instagram:
http://www.instagram.com/redlinerabbitry
---
---
Posts: 548
Joined: July 12, 2016
Location: snohomish, wa
Thanks: 4
Thanked: 152 in 134 posts
---
yep, all my february litters didn't take. the good news is all the does i had rebred a couple weeks ago were very willing and at least one of them is Incredibly moody now, so it seems like march madness is going to be a reality.

at least i got to make myself feel better by going to the local co-op and buying a bunch of chicks ;D
standard rex, harlequin, meat/fur mutts
tumblr: @
babbits
| facebook: @
frithyeer.rabbits
| ig: @
frithyeerfarm
---
---
Posts: 40
Joined: November 30, 2015
Location: central-ish FL
Thanks: 13
Thanked: 10 in 7 posts
---
OK, now I'm really scratching my head here. Brooke finally kindled (she started pulling fur yesterday morning), and she has three big kits ... but not a one looks like Larry, who is a broken blue. I had bred Brooke to Jack, my opal buck, ten days prior to testing with Larry. Jack was busy with Lacey that day, I think, but Brooke lifted for Larry like nobody's business, so I figured the breeding with Jack didn't take. All three kits Brooke just kindled this morning look either opal or blue otter (I haven't sussed out all the recessives yet, see below), which makes me wonder: is it even possible that these are Jack's kits and she went 44 days??
Lacey's six pack is furring in, and will be opening their eyes over the next few days ... and I seem to have lilacs? Lacey is a broken blue of some sort, daughter of broken blue Larry and opal Brooke, bred to opal Jack. Now, Jack *has* thrown a solid gold kit (and a solid black, so I am assuming he carries the recessive self-color solid gene under the agouti), and the lady I got him from mentioned seeing the occasional fawn and lilac, so I guess it's safe to say Jack is also carrying the recessive brown-base, along with recessive extension? Figuring out rabbit genetics, even just for coat color, feels a lot like a game of Clue. MaryAnn, Lacey's littermate, is a broken ... *orange*. I do know Larry's dam is also a broken blue, but either didn't catch what his sire looked like or the lady didn't say. Brooke is an unknown, as I bought her at the livestock auction. So far, she has only had small-number litters of huge-sized kits.
Oh, over on the goat side of things, the smallest of Maggie's triplets died the other night. Apparently he lacked the suckle reflex, as he even spat out his mama's teat when I tried putting it in his mouth. He may also have been blind. The other two are growing and thriving. The firstborn I nicknamed "the Lone Ranger" because he definitely doesn't need anything from me and only seems to need Maggie when he's hungry. The rest of the time he is playing with the older kids. The middle triplet, whom I believe is polled, I nicknamed Mooch. Is happy to take the bottle, and I've even seen him trying to suckle the other nannies! He's now bigger than Ranger due to this mooching habit.
ETA: While I'm at it, Dutch-Boy has blue eyes, even though he appears to my (inexperienced) eye to be a dutch banded castor. Any idea where the blue eyes come from? Would they be dominant or recessive? I think they're cool, but he looks startled all the time.
---
Posts: 217
Joined: September 15, 2010
Location: Hawaii
Thanks: 11
Thanked: 37 in 35 posts
---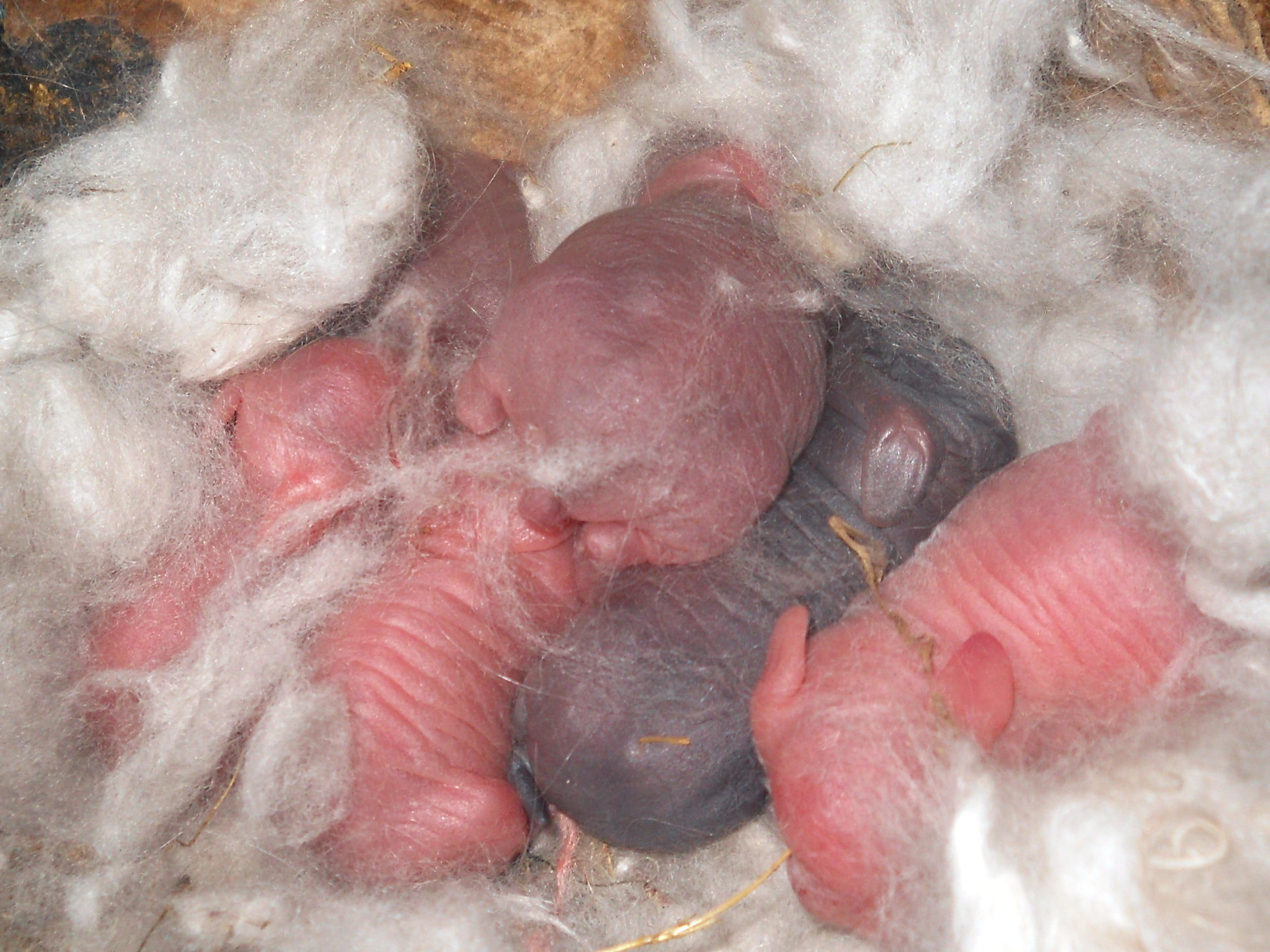 A day early! Generally, litters are more likely to show up a day late than a day early, but hey! Baby buns!
English angoras, from a chocolate mum (Olivia) x a tortoiseshell buck (Caesar). Statistically speaking, it's much more likely for the three pink ones to be tortoiseshell than Ruby Eyed White, but! (Or should that be butt? As in baby bunny butt?
) anyway, for half the litter to be REW is not statistically likely. Yet, if they are tort, what are the other slightly darker pink ones? Chocolates?
Well, in a couple more days, the colors will be more evident.
FWIW, I think we've got the lack of litters thing figured out. For the past few years, we'd been having problems with no baby bunnies showing up. Now we're breeding them much younger for their first litters and now baby bunnies are appearing much more often. For this particular litter, the doe was five months and one week old and the buck was just over ten months old. I'd thought she was a little young, but she not only had the litter, but a normal sized litter too.
---
---
Posts: 548
Joined: July 12, 2016
Location: snohomish, wa
Thanks: 4
Thanked: 152 in 134 posts
---
well i finally got SOMEONE to kindle!! ten from one of my old does. i'll be keeping a nice daughter to replace her...i will miss the old girl. she's been an excellent doe. ten is her smallest litter to date and i can only hope her daughter is as prolific!
one of my other girls is acting very pregnant but still no real nest and i haven't seen activity in her belly so i'm not holding my breath...
standard rex, harlequin, meat/fur mutts
tumblr: @
babbits
| facebook: @
frithyeer.rabbits
| ig: @
frithyeerfarm
---
---
Shea

Site Supporter
Posts: 152
Joined: July 10, 2017
Location: Upstate NY
Thanks: 4
Thanked: 35 in 30 posts
---
Congrats on a successfull litter! Hopefully your other girl kindles for you as well.
---
Posts: 862
Joined: May 2, 2016
Location: California, US
Thanks: 444
Thanked: 221 in 179 posts
---
shazza wrote:well i finally got SOMEONE to kindle!!
So glad you've finally got some babies to play with, shazza! I hope there's a real pretty keeper in that bunch for you.
We're giving the girls that
should
be due their nestboxes this weekend... with any luck we'll have some fresh buns in another week and a half!
Instagram:
http://www.instagram.com/redlinerabbitry
---
Posts: 548
Joined: July 12, 2016
Location: snohomish, wa
Thanks: 4
Thanked: 152 in 134 posts
---
me too! there's both satin and vm in that litter and i would love a daughter that shows both, but we'll see what i get.
my other girl came through though too! pure harlequin this time from both unproven dam and sire...very excited about these as well. there's a possibility for blue, lilac, chocolate, and black in both magpie and japanese, but so far it looks like there's only blue and/or lilacs, maaaybe one chocolate. i'm still so jazzed.
standard rex, harlequin, meat/fur mutts
tumblr: @
babbits
| facebook: @
frithyeer.rabbits
| ig: @
frithyeerfarm
---
---
Who is online
Users browsing this forum: No registered users and 1 guest