Posts: 448
Joined: September 20, 2015
Location: South Africa
Thanks: 115
Thanked: 76 in 66 posts
---
I think I'll have to try this. I liked Lucky Lapine but got kind of bored eventually. The idea of having meat/fur rabbits appeals to me. And the modifiers sounds fun.

Is it similar to LL in the show breeding side? Like with the "perfect" traits and non-perm stats?
---
Posts: 24
Joined: May 1, 2018
Location: Near Kansas City, USA
Thanks: 1
Thanked: 0 in 0 post
---
@LittleFluffyBunnies
You are unable to raise stats, since on Lep, they are all basically genetic. The only stats you can raise are intelligence (which gives your account perks), agility (which hasn't yet been implemented yet), and tameness (which can let your bun become a therapy animal, once that feature is added back in!) None of these affect showing- you have to breed for a good show animal, rather than make one. Showing is basically optional on Lep, since you can make money many other ways (wool, meat, selling rabbits or items to other players...) though it can be really fun!
Here's a picture of one of my New Zealand's stat boxes: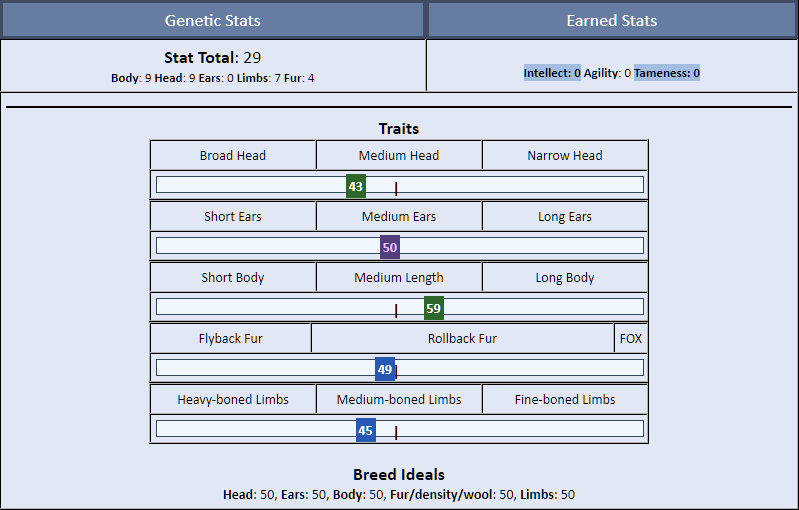 There are traits, which are basically how close to breed standard your rabbit is, and stats, which are more like how good these traits are. You need both to do well in shows! Luckily, breeding the buns doesn't take long at all. I personally prefer Leporidae over Lucky Lapine, but I play both since I do enjoy the different ways of play!
I highly recommend Leporidae to anyone who likes rabbits/genetics.
---
Posts: 448
Joined: September 20, 2015
Location: South Africa
Thanks: 115
Thanked: 76 in 66 posts
---
Just made an account and I love the layout and features! I'm starting with NZ and I'm really excited. However, it does keep bugging quite badly. Most of the time when I try to click on something it sends me back to the login page, even though I'm logged in already. Hopefully that gets fixed soon because otherwise it seems like a great sim. I just love how realistic it is.

And thanks for the info!
---
Winterwolf

Site Supporter
Posts: 150
Joined: April 28, 2016
Location: Northeast Kansas
Thanks: 69
Thanked: 36 in 31 posts
---
@LittleFluffyBunnies
It usually only does that if you try using it on a mobile device. I always use my desktop computer and I've never had that happen to me. The game is still in beta, so yeah there are a ton of bugs that pop up; but it's still a lot of fun.
---
Posts: 44
Joined: August 23, 2018
Thanks: 6
Thanked: 2 in 2 posts
---
Tried it but struggling with the interface. I can't figure out how to get items food or money, and there are a lot of quizzes on rules and things.

Basically it seems to have a reverse difficulty curb. Which is a shame, I was hoping it would be a "beginners playground for genetics" sort of thing.
---
Who is online
Users browsing this forum: No registered users and 2 guests