---
Hi all!
I am quickly adding cages and rabbits to my new breeding program and am finding that I am opening and closing cages a LOT... Some of my rabbits don't mind, and others scamper away every time.
Anyhow, I have purchased those sifter feeders, cut the wire and then inserted them from the outside of the cage to 1) Give the rabbits more room in the cage and 2) make it so I just have to open the top of the feeder to pour more food in... very quick and easier to fill without spills.
I have also trained all my rabbits on the Lixit water bottle (top fill) system, which is also nice. I don't have to open doors or remove bottles to refill. I just open the lid on top, and add water. Then, once a week, I give the bottles a good cleaning, just as I would with the regular rabbit water bottles.
Now, comes hay.... opening cages to cram hay into those racks that keep falling down is a pain. I would very much like to replace hay, again, from the outside of the cage. We are going to make a bunch of cages just as soon as our wire arrives, and I am
seeking ideas for building in an "easy-to-fill" hay rack. Any ideas?
I know this all sounds like I don't want to spend too much time on my rabbits, but please, know this is NOT true. I would rather spend my time socializing them and playing with them, than to fill trays, etc. All of our rabbits get lots of outside cage play time, and we sit with them and enjoy playing with them. I just want the feeding system to go a little more smoothly, so I can have MORE time to enjoy my bunnies.
Thank you!!!
---
Posts: 493
Joined: July 12, 2016
Location: houston. tx
Thanks: 4
Thanked: 114 in 104 posts
---
i've seen lots of people cut pieces of wire meshing and clip it to the outside of the cage. the rabbits pull the hay through the bars of the cage. kinda like this: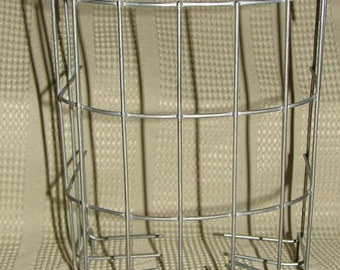 i personally bought the hay feeder jfeeders from bass and i quite like them. it saves space and doesn't look quite as cluttered on the front of my cages :p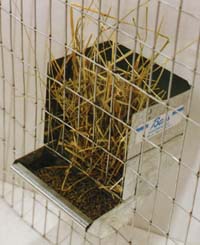 my only complaint is i sometimes need to pull the bits of hay the rabbit didn't eat out of the pellet hopper so their food can fall through, but it's much less work than dealing with hay bags or inside the cage hay racks.
mini lop, standard rex, meat mutts
tumblr: @
babbits
| facebook: @
frithyeer.rabbits
| ig: @
frithyeerfarm
---
---
Posts: 175
Joined: September 15, 2010
Location: Hawaii
Thanks: 9
Thanked: 21 in 21 posts
---
I saw a hutch setup once where there was a V shape at the top between the rabbit 'holes' in the hutch and the hay was just stuffed in there from the front. I think they used wire hoops - kinda like a wire Quonset hut type of construction side by side. The hay was between the two holes so when you're adding hay into each space, it's feeding two bunnies.
---
---
---
Thanks, All.

I took a traditional hay feeder and weaved a cut piece of plastic cutting board (the cheap semi-transparent cutting board sheets you get at Dollar Tree) through it, and it kept the hay from falling out...
---
Who is online
Users browsing this forum: No registered users and 1 guest