Posts: 518
Joined: August 23, 2011
Location: Pennsylvania
Thanks: 55
Thanked: 38 in 30 posts
---
Oh, momma would go with them. The hutch is just massive...I think it's ten feet long by 2 feet. They are in a 'XXL' cage right now but I would prefer they have more room. They are also still going for milking visits to 'bad momma' every morning but she's starting to wean them as well.

They are between 12 oz to 1 lb each currently. I'm thinking this is very large for a dutch baby.
---
Site Admin
Posts: 16907
Joined: December 16, 2009
Location: South Eastern Ontario
Thanks: 938
Thanked: 2647 in 2028 posts
---
Sounds like a great set-up for them. I'd put in some kind of a box - nest box or cardboard as I suggested - and go ahead with the move. Having momma along makes a difference... You don't want too many changes at one time as it can stress the kits.
12-16 oz. does sound large for three week old Dutch kits.
---
Posts: 518
Joined: August 23, 2011
Location: Pennsylvania
Thanks: 55
Thanked: 38 in 30 posts
---
Everyone is moved and rather happy. Those baby bunnies can move FAST. I weighed them...I must have been wishful thinking...they are all between 10oz to 12oz. They are 19 days old today. Everyone was eating and drinking when I just went out to visit them.
---
Posts: 19
Joined: April 25, 2012
Location: TN
Thanks: 0
Thanked: 1 in 1 post
---
We have our setup in an old barn that we've turned into our goat barn. The rabbits are on the wall of the day "loafing" area for the goats. It's a concrete floor and since it's washed twice daily to help curb the fly population there is alot of evaporation that cools down the barn very well. The old barn has a natural "draw" of air that flows through it (the old timers were dang smart)and, I have put a "Dutch door" (opens on top and bottom) on the entrance to the barn and filled in alot of the openings that helped draw such a great draft in order to keep out the rain. I can open the top section of the door to create a draft and leave the bottom section closed for security. I also keep a fan running 24/7 just for piece of mind. I have a bottle system for watering at this time but, will be finishing up a 55 gal bulk tank watering system soon. The rabbits are watered twice a day and then I had to still put 2 wateres on a couple of the cages to satisfy the needs of some of the senior does. Cool fresh water as much as possible helps. My next step since it is getting into the mid 90s here was frozen water bottles. They love them and it will cool down the cage even further. The bottles won't stay frozen all day but, last for some time and I feel that there is nothing more that I can do to keep my rabbits cool.
In the winter I will simply shut the doors on our barn and since we don't have alot of "killing cold" here I feel all mine will be just fine in the winter.
My security system may be some what more expansive than what most have since we are protecting our goats as well but, we have a 1 acre "day pen" for the goats that is 4x4 woven wire with a run of electric on the top and bottom and we also have Zues. Meet Zues..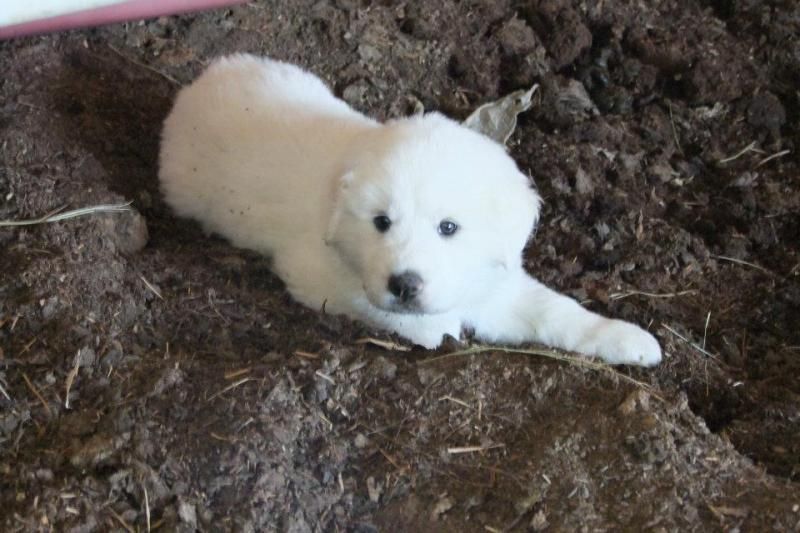 He is a fluffy fur ball in this picture but, he has grown A LOT since then. When Gus, our buck, jumped from his cage when I turned to get some greens and landed in the floor he almost landed on Zues. I thought "Oh lord Gus is a goner". Zues did not hurt Gus at all, only sniffed him and stood there.I ended up leaving Gus on the floor and Zues followed him around as he explored the barn while I finished up my chores. I had let Zues smell all the rabbits when he was small and he watchs them when they are active in their pens so he is acclimated to them and see them as something else to protect. We have coyotes, coons, dogs and bears (eating our black berries now) and we have yet to have a single problem with our set up. Zues even barks and meets the cows at the fence in a protective manner when they get to close. He even barks at strangers when they come to see the our animals or watch us milk our goats. I was never a fan of Great Pyranesse (sp) but, I guess that he's started to grow on me.
---
Posts: 2
Joined: January 6, 2013
Location: Ontario
Thanks: 0
Thanked: 0 in 0 post
---
MOVING BUNNIES TO GARAGE IN MIDDLE OF CANADIAN WINTER: I have a 1 year old mini rex (Dennis Hopper) and a 6 month old mini lop (Hobbes). I have been forced to move the bunnies out to the garage after having always lived inside. I think Hobbes is fine because he's hopping around and binkying, but Dennis seems a little less enthused. He is generally much calmer than the younger one, but I'm concerned considering his fur is thinner than the lop's. It could also be due to the fact that Dennis is fixed, while Hobbes is not. I should also mention that they are in separate cages because they tend to fight. This means no snuggling
I live in Southwestern Ontario (Canada) and the temperature is consistently below 0C at night and during the day. My dad has placed a small heater out in the garage in an attempt to warm the bunnies. I suggested he bring Dennis in at night until he's developed a thicker coat but I've also seen comments saying that this could do more harm than good because the rabbits are sensitive to drastic temperature changes. Any suggestions? Will they acclimate? Should I bring them in and out until they're used to it or just leave them out there? I am currently ensuring they have fresh LIQUID water in the morning and at night and have lined the cages with towels and blankets on the bottoms and wrapped the walls 3/4 of the way around their cage for insulation. Any advice, suggestions or confirmation of what I'm doing is okay, will be greatly appreciated.
---
Posts: 2097
Joined: March 1, 2012
Location: USA
Thanks: 225
Thanked: 208 in 189 posts
---
Hi Amy,
Yes, Dennis sounds like his nose is a bit out of joint at the move. As for temps, if you really think they are not warm enough, I would suggest that a cardboard box stuffed with hay will provide plenty of warmth for any rabbit. Also, covering the front of the cage at night will keep it much warmer in there ... rabbits generate something like 1.5 Btu of warmth.
As it is, you have the cages wrapped with insulating materials, so that should be enough. You might want to move the water source under the insulation which will keep it liquid longer.
I would recommend that you do NOT use a space heater in the garage. You are right that moving bunnies into and out of warmer conditions can cause problems, but as long as the bunnies are free from drafts, inside an insulated garage, in insulated cages, with a box of hay for warmth, they should be just fine.
Mine actually live in wire cages outside (temps 0C and below day and night) with a wooden box and all the hay they want for warmth. And, they do get the breezes, but with the shelter box, they can get out of the wind as they wish.
As always, keep a close eye on how they are acclimating to the new location and they will "tell" you how they are doing.
BTW - any pics of the new digs???? You know, we require photos
cheers - AnnClaire
---
Posts: 2
Joined: January 6, 2013
Location: Ontario
Thanks: 0
Thanked: 0 in 0 post
---
AnnClaire,
Thanks so much! You've put my mind at ease. I've attached a few pics below showing their new setup, the temperature in the garage with the heater, and then a couple cute pictures of when they're happiest
We left Hobbes out in the garage for the night because he seems to be enjoying the cold, but Dennis is in for the evening. We might try an overnighter in a few days if he's still doing well during the day.
I'll keep you posted with how they're doing. And again, thank you!
Attachments

Dennis Hopper
image.jpg (214.47 KiB) Viewed 3816 times

Hobbes
image.jpg (250.09 KiB) Viewed 3816 times

This was when they first met and still liked each other. They fight whenever they see each other now :(
image.jpg (233.84 KiB) Viewed 3816 times

image.jpg (178.62 KiB) Viewed 3816 times

image.jpg (289.03 KiB) Viewed 3816 times

image.jpg (254.4 KiB) Viewed 3816 times

image.jpg (284.16 KiB) Viewed 3816 times

image.jpg (283.14 KiB) Viewed 3816 times
---
Posts: 434
Joined: May 15, 2012
Location: NM
Thanks: 31
Thanked: 30 in 25 posts
---
What a cute couple of bunnies! <3
---
Posts: 2097
Joined: March 1, 2012
Location: USA
Thanks: 225
Thanked: 208 in 189 posts
---
Amy, it looks like you are doing an OUTSTANDING job of spoiling those bunnies completely, thoroughly ROTTEN
Keep up the good work!
cheers - AnnClaire
---
Posts: 966
Joined: December 23, 2014
Location: NW Missouri
Thanks: 175
Thanked: 145 in 119 posts
---
Best advice is buy your stock from some place with the same climate as your going to raise your buns in. One of the many reasons I went with the breeder I chose.
---
---
It's best to keep your rabbit between 63 degrees F (17 degrees C) and 81 degrees F (27 degrees C).

Rabbits do best when they're kept at the same temperatures that you generally find comfortable. Leaving a rabbit in temperatures outside the range I've stated risks making them miserable and can cut down their life span considerably.

If a rabbit is outside, be sure to give them shade. They can likely do fine at temperatures a bit higher than 27 F as long as they have plenty of water and shade. However, if they're exposed to direct sunlight for too long, you're bound to have issues. Keep in mind that a rabbit warren's temperature is regulated by the fact that it's underground. Rabbits are communal; in a warren they will help each other to stay warm if need be.

Consult this PDF for more detailed information:
http://www.blitter.com/~nebulous/otherworld/ThingsToKnowAboutRabbits.pdf
---
Who is online
Users browsing this forum: No registered users and 5 guests