Posts: 54
Joined: March 5, 2017
Location: Northern Minnesota
Thanks: 14
Thanked: 8 in 6 posts
---
So I currently have
1 champagne d'argent buck
1 flemish rew doe
1 champ Jr doe
1 champxflem Jr doe

I'm taking in a French lop and a lop x mutt, they're unsexed until I get them home and flip them. Probably the lop is a doe. The cross is a broken black, probably rex x French lop.

At what age do you start mixing it up more and retiring/selling/processing out the purebreds? I'm easily feeding my family of four (sometimes 6) off one or two buns a meal. But I know if I stopped producing the half's they'd start getting meatier with less bones. I have the champs for the silvering and the two new ones will be adding color to the colony.
My thoughts are to keep the flem til fall, get one more litter. If one of the new ones is a buck phase out the purebred champ buck this fall also. I'd have one purebred champ doe, which will be okay if she produces good. Maybe keep the champ back just in case she doesn't produce well and ends up like her mother?
Then, the flemxchamp are not silver at all. No ticking even. I was hoping for it. Of course if both the new ones are does there will be 3/4 champ, and they may or may not silver. Along with the new does possibly making silvered...

Anyway, long rant over... I want spotted silvers. Or at least silver ticking. How many years out am I for that? And should I keep the buck even if I get a broken buck who may throw silver brokens with the champ doe? I know that right now I'm getting good growth at 12 weeks.
---
Dood

Site Supporter
Posts: 6438
Joined: November 16, 2012
Location: Ontario
Thanks: 123
Thanked: 1773 in 1476 posts
---
I am always rotating out older stock with new, sometimes does only have one or two litters and if they don't meet my expectations, and I have another young doe ready to breed, the older one gets sent to freezer camp
Silver is recessive so it's no surprise the 1/2 champs aren't silvered but they will carry the mutation; bred to a silver and you should get 50% silver 50% not silver but carriers ; bred to a silver carrier and you'll only get 25% silver, 50% carriers and 25% no silver mutation
Thankfully broken is dominant so cannot be secretly carried
Breed it to a champagne, and breed any broken kits back to the pure champagne and you should get some silvered brokens
So your looking at a 7-8 months timeline r(1 month preggers, 5-6 months to get sexually mature, 1 month preggers plus a few weeks to see silver in the kits fur
)
---
---
Posts: 7133
Joined: July 17, 2010
Location: Iowa
Thanks: 1
Thanked: 1076 in 953 posts
---
If I have a really good producer that holds condition I did keep them nearly the entire time I had rabbits. Even from purebreds, to mutts, to back to purebreds and the few years with just Netherland dwarf because I moved in town and had to use my basement. I tried to get back into meat with standard chinchillas but had my buck stolen and found I couldn't keep anything outdoors or the not locking porch so I gave up. If you find a really good doe or buck there is no reason not to just keep breeding each generation back for awhile even with inbreeding. Otherwise I generally moved the mutts along adding other breeds as beneficial. Champagnes aren't the lightest for bone depending how they've been bred. The stock I got was very pure but large to the point of going over ARBA show standard sometimes and I actually used mini rex to lighten the bone and get a better meat to bone ratio along with feed efficiency. Dutch would probably be superior in that size range and there are a few old meat breeds that are a similar to slightly bigger size like the standard chinchillas. Flemish and other giants are often not used except as very small amounts in meat crosses because they mature slower and have heavy bone so you may get a bigger animal but you don't get more meat and even if you are getting the growth rates they tend to turn out to be food pits when you calculate what you are putting in them compared to other options. The small meat breeds are often overlooked for their size but have benefits in their efficiency of production or growth and lack of waste. There's a reason most original meat breeds did not get bred bigger until recently. I ended up in the end with 2 lines where I had the champagne and creme d'argent heavy line impacted by mini rex and right before I went to american sable purebreds to attempt showing again I added some american chinchilla x cinnamon does. Then I took some of the larger end of the line and I crossed to checkered giant x new zealand, somewhat similar to adding a flemish in characteristics, for heavier bone because it benefited the dogs eating whole prey even if not the people. I would definitely watch efficiency of feed intake, growth speed, and meat to bone ratio if using only flemish and champagne.

Silver is not always a simple gene and certainly not just recessive. Sometimes it is consistently there and not there with lighter silvered breeds but with d'argents usually you get in betweens and often for generations. I would assume the inconsistency is a mixing in the background of the d'argent across silver breeds or to too many not silver ancestors off the pedigree if you have one. From what I've seen the purest d'argents will not produce offspring that fail to silver. No matter what you mix them with the first generation and often even further than that. Even the 3rd generation still silvered as much as any lighter silver breed with no solids so the gene doesn't disappear as a simple dominant and is labelled with 3 versions on rabbitcolors.info . It took 5 generations of breeding the offspring of each generation to a solid before I wasn't just diluting the silvering of my starting champagne line. There was a group on the WI border really pushing to preserve the breed and breeding pures between each other for many generations though so I know mine were fairly undiluted champagne. My creme line had new zealand in it and I never pursued them as a pure breed, along with many other people who would roll their eyes when you said where they came from, because the only local breeder had contaminated the line so much with new zealand before selling only the minimum length pedigrees where new zealand additions wouldn't show. I got less consistent results of silvering when crossing the cremes and never the pure buck I paid in advance for then decided to give up on. The one doe did produce awesome meat litters though and insisted on being bred constantly without ever losing condition. She could make a nest to match 100F summer and -30F winter. I just piled in the straw and she'd bury her box 3' deep to have 4week olds pop out of it eventually no matter the winter weather. As much as that doe did not impress me in other ways I never replaced her right until I went to breeding pure american sables. 8-10 kits solidly practically year round while refusing breaks and getting distressed from hormones while trying to tear her cage or the ground pens apart if you didn't let her at a buck so why replace that at any point until they get too old.... My big champagne buck and one champagne doe who only produced 5 a litter but did so well also remained for breeding my mutt generations back to.
---
Posts: 54
Joined: March 5, 2017
Location: Northern Minnesota
Thanks: 14
Thanked: 8 in 6 posts
---
Well, I had already removed the pure champ doe to under producing and kept one of her female kits. Through buck is good! Happy little humper. I don't have pedigrees on him since I bought them for meat and crossing into a muddled mess. I do know some of his sibling and half siblings have done well in shows up here.

And on the new buns... if there's lop in their background I'd eat a hat. They're both does, both overweight, one is the daughter. Daughter was aggressive to the family, she's already one of the friendliest buns I've ever seen. They were in way too small of cages in an extremely.... active household. Bigger cage and peacefulness means a happy first to meet you bun. Momma is almost as friendly. They're probably Rex mutts, and will slim down to 8 lbs or so. Perfect size for me! Can't wait to breed them to the champ and see what pops up!
---
Posts: 7133
Joined: July 17, 2010
Location: Iowa
Thanks: 1
Thanked: 1076 in 953 posts
---
Photobucket has so messed up with ads I need to save all my albums and use a new service or I'd pull up my older album and show you first and 3rd gen champagne x mini rex crosses. Like I said though mine were very pure d'argent from preserved old lines and silver did not behave the same at all as quoted by other people so I had 100% lightly slivered for dozens of offspring despite a solid mini rex buck. I think the silvered torts were champagne x mini rex crossed to creme x mini rex and that result crossed back to mini rex using a pair of bulky blue and chocolate mini rex bucks. I started getting curlies after adding the nz x checkered for some weird reason but I don't know the full background on the checkered side of those doe. I had some smutty red and chestnut curlies that were nice larger meat rabbits with the odd partially bald one like you can get with the curly genetics. I didn't reach the point of bringing the recessive chinchilla coat back out in any line before selling out my mutts and rather regretting it. Showing didn't go so well with my limited ability to travel early in the morning and I soon had to sell out all large breeds anyway so I could have spent the last few years continuing the very nice meat mutts I had by then with a few litters of pure champagne that could show periodically.
---
---
Posts: 9479
Joined: January 1, 2012
Location: Ohio
Thanks: 645
Thanked: 705 in 655 posts
---
There is a long thread somewhere, I will try to resurrect it, about the problems a few of us were having with Silver Fox. Akane is very correct about Silvering not being a 1 to 1 gene. I've had 2 heavily silvered parents produce little to no silvering, or the kits are all across the board, and the opposite with two lightly silvered kits. And then there are the ones that are so heavily silvered they look like champagnes, or produce white spots.

I also have an F3 Angora cross that still looks silvered. At the moment, her kits show no signs of silvering...yet.
German Shepherds
*
Rush Hour Rabbitry
*Rex
*
Jersey Wooly
*
French Angora
http://www.foursquaremicrofarm.us

---
Posts: 7133
Joined: July 17, 2010
Location: Iowa
Thanks: 1
Thanked: 1076 in 953 posts
---
I think I triggered a few longer discussions myself from my experience with the silvering of champagnes and their crosses that I never followed all the way to the end. In rabbits like I had it doesn't act like just a recessive pair of genes with modifiers for the level of silvering. Heavy silvering with all heavy silvering background can persist beyond what an already half silver crossed to another with a solid parent or directly to a solid should have with a single recessive gene. I wouldn't call it a standard dominant pair of genes either though because in multiple crosses to not silvered rabbits it still did not act like a single gene pair where you should start to see not silvered recessives at a predictable point. Modifiers acting on a single gene for level of silver does not account for the results over multiple generations of crosses by itself.
I forget the crossing on the doe side but my first St. Hubert as they are called when silvered chestnut had a mini rex sire (Mocha). It would make sense to be just a champagne x creme but it wasn't. I penned my pure champagnes separately.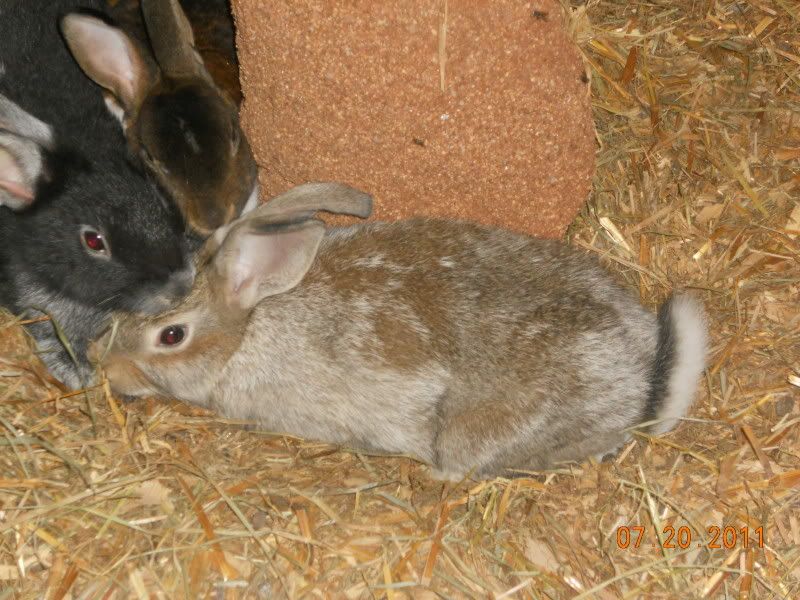 Ugh, here we go. Straight, first gen mini rex bucks x champagnes and cremes. I butchered them before much silver and you can't really see it on the reds.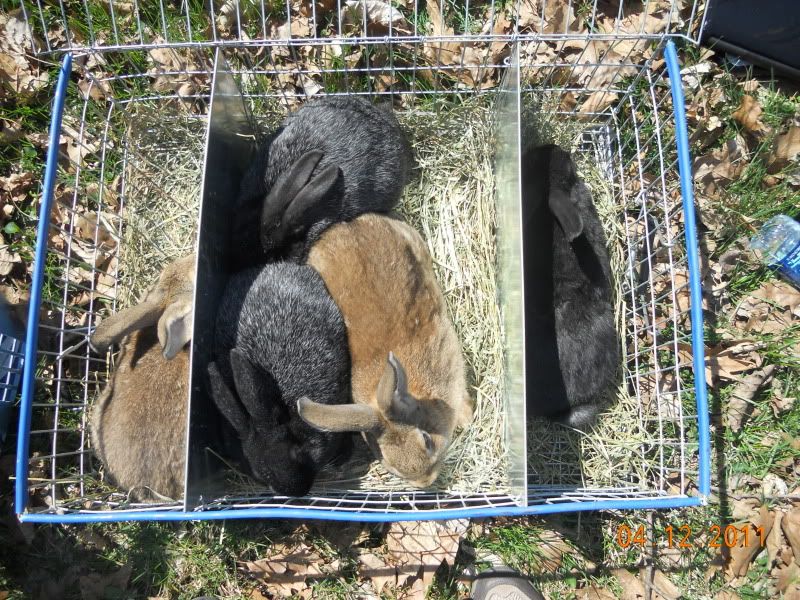 By comparison one of my amusing pure champagnes at the same age so the silvering was altered a lot but it did not just go away.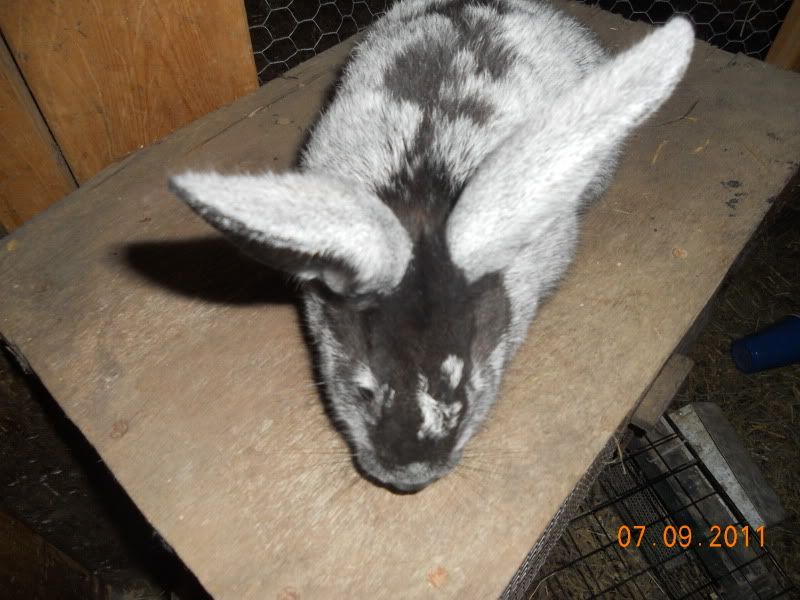 POS photobucket system now. If any of those just display "upgrade for 3rd party hosting" (which is the entire point of the freaking service) let me know and I think I can get around it. It seems in order to download them I have to click through every single photo individually, while constantly dodging ads now, and I have 100s on 3 accounts that were safely stored away from my computer crashes since something like 2002. I remember they started out with a counter to show exactly how much free service space they had because the owners were proud to offer such a service. It's almost worth paying to upgrade (to get what I had for free all these years) and combining them all with the increased space, ad free, and how can you turn off 3rd party hosting on a photo hosting site.... I really don't have time for this sudden mess in one of my main ways of interacting online.
---
Posts: 1406
Joined: January 13, 2014
Location: Southern Nevada
Thanks: 65
Thanked: 229 in 208 posts
---
I'm getting a message over were the picture should be, saying: "please update your account to enable 3rd party hosting"
---
Posts: 7133
Joined: July 17, 2010
Location: Iowa
Thanks: 1
Thanked: 1076 in 953 posts
---
Darn it did work at first. Today we learn new image hosting services and try not to wish too evil of things on photobucket owners.
"st hubert"
direct mini rex parent
pure champagne-they silver at different ages depending on line
---
Posts: 54
Joined: March 5, 2017
Location: Northern Minnesota
Thanks: 14
Thanked: 8 in 6 posts
---
Those are cute! It'll be a long while until I see what the spotted cross out look like. The ST Hubert has more silvering than my first Gen cross. I think this will be fun either way. Thanks for the pics!
---
Who is online
Users browsing this forum: No registered users and 6 guests