Posts: 7555
Joined: December 26, 2009
Location: near London, Ontario
Thanks: 46
Thanked: 830 in 705 posts
---
so yesterday my old tattered into shreds, no longer a good shelter from wind tent was replaced.
the tent (portable garage) had a warranty of one year and I stretched it to four years. This because I double tarp in the winter.
My new tent is guaranteed for two years and I hope to stretch it to about six years.
It's a shelter logic portable garage
I dislike that it is a dark brown colour, it gets hotter already then the yellow one I have.
My isolation and guinea pig cages
My growers will be in this cage. I have another like it but it came from another breeder and is doing the "sit in the sun for three weeks" thing to kill any possible bugs before I'll burn it and bleach it before using it.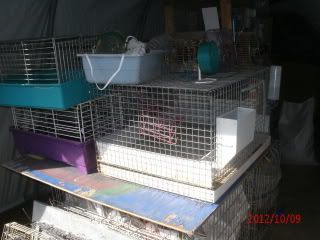 those plastic bottomed cages (used for traveling when I teach about bunnies) will rest on top the 30 x 24 inch cages.
I've mostly got the shelving organized. I have a few things that need to go into the shelter yet, but haven't quite figured out where to put it.
I find it interesting how this 12 x 20 structure replaced another 12 x 20 structure but this one is much narrower somehow... I can't fit the canoe inside this tent so hubby is a bit concerned about where to put it now...
On a somewhat different note....
I still have a lettuce garden (cut back for bunny munchies tonight)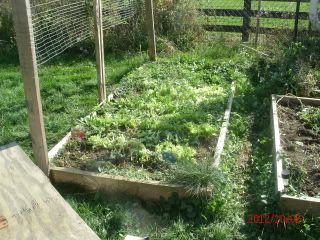 the frost that killed my ground cherries and tomatoes hasn't bothered the lettuce yet.
BUT since I have removed the frost-bitten plants I soon can start digging in my rabbit waste for good growing of veggies next year.
So I've had a rather busy two days, to be followed tomorrow by another busy day...but it's better to be busy than to be lazy and not as productive as I should be.
---
Posts: 2237
Joined: January 29, 2012
Location: New Jersey
Thanks: 79
Thanked: 139 in 135 posts
---
Nice set up. Thanks so much for sharing.

Tomatoes are gone here as well. But parsley, basil, and carrots still going strong. Bunnies are loving the extra greens. Especially my Luna.

Nice to be busy. Not so much productive on my part, but keeps my mind off what I truly miss.

Karen
---
Posts: 7555
Joined: December 26, 2009
Location: near London, Ontario
Thanks: 46
Thanked: 830 in 705 posts
---
thanks.
---
---
How do you keep this portable garage cool during the summer?
---
SixGun

Site Supporter
Posts: 519
Joined: August 28, 2016
Location: Southern Arizona
Thanks: 89
Thanked: 108 in 91 posts
---
I've used a portable carport with good results as well. I had to cut a panel out of the back though and duct taped the hole to allow for more ventilation. Lots of fans too, but my climate is rough that way.

Although we did have a few cooler nights and snow one day, my plants all survived. The lettuce is all seeded out and the bunnies dont mind at all, and I'm not sure how much longer my Kale will be worth more than rabbit feed. The carrots are mostly harvested and its past time to plant my summer crops but I'm just being lazy about it. Fall will be here before I know it and I can plant more things then and not worry about the constant water / heat fight.

Love your set up and kudos for those busy and productive days.
English, French and Satin Angoras
---
Who is online
Users browsing this forum: No registered users and 4 guests