OneAcreFarm wrote:
skysthelimit wrote:
Nope no wrench. EBay so not original. Probably ordered a bunch from. China and repackaged them. It's just a piece of brass with a stem how would I make adjustment s. I need a picture.
Mine are not brass, they are stainless steel coated....can you post a pic? On mine you insert the allen wrench into the connection end and twist...
Do they look like this?
Attachment:
brass nipple.JPG
Here are adjustment instructions if so...
https://encrypted-tbn2.google.com/image ... KXo29l4hqQ
Nope, maybe they are stainless steel coated.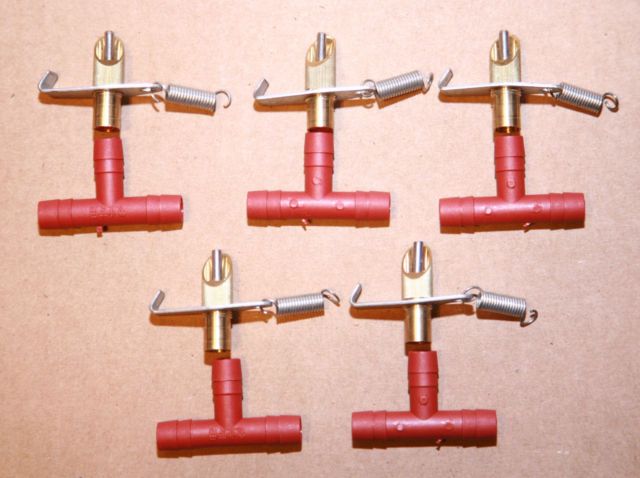 When I got home I saw a place in the back for an allen wrench. I will make the adjustment and try it again.
__________ Thu Jun 07, 2012 4:46 pm __________
caroline wrote:
One of the things that I did NOT do, after I had taken everything apart and cleaned the cages and the cob webs, was to reattach the "automatic" watering system. I elected to buy [lots] of 64oz Lixit wide mouth bottles and I have NEVER regretted that decision. Yes it takes me about an hour or more a day to check and fill the feeders and waterers, but I think that I spend Less time messing with things that don't work the way that I expected them to and more time admiring and talking to the bunnies, rather than cursing at them or the wild rodents for chewing the tubing. And I know that I have to check every cage every day to be sure that they have water and it's easy to see if they do or they don't, unlike my experience with the valves and tubing that I didn't have x-ray vision to trouble shoot. And it's also easy to add the ACV to each bottle, which would not be so easy if I were using the "automatic" system.
I'm starting to think this automated thing is a waste of my money. First, I don't have the rabbitry finalized, so I can't use pvc. Things get moved too much. The 5/16 tubing fits over the t barbs, but slides easily off of the nipples. I have 5/16 nipples, but no 5/16 shut off valve. I can't get the connection to the bucket to stop leaking, no matter what sealant I try (and I drilled the second one into the bottom of the bucket). More importantly, I can't get the bucket high enough to get the pressure to go to the cages on the second level. I have to carry the filled bucket from the backyard to the barn, and hoist a filled bucket eight feet up into the air. That's more than a little bit dangerous. I would have to take this bucket and do this probably twice a week, maybe more in the heat. Since there is no electricity to the barn, I would not be able to use this in the winter time. I think I will just buy some bigger bottles. I will never have more than 15 adult rabbits, just because of cage space, and in the season they will drink the most, I'll be home to fill bottles.