Posts: 89
Joined: June 16, 2015
Location: New Norway, AB
Thanks: 4
Thanked: 11 in 10 posts
---
Wool and spinning is not something my wife and I are into, but we have already mentioned the event to a friend of ours who is very interested in coming. She has various livestock including water foul and she spins her own wool from her sheep. She would find your exhibit very interesting.

My wife knits or crochets or something like that (LOL), but she has some pretty good asthma and her allergies to animals do not help. Fortunately the rabbits haven't been too bad on her, yet she can get quite itchy at times. Cats and horses are a nightmare on her.

Looking forward to meeting you.
---
Posts: 637
Joined: October 20, 2013
Location: Alberta, Canada
Thanks: 106
Thanked: 99 in 82 posts
---
Knacker, I am tall, brown hair, curly, usually wear my hair up. My name is Sue. I look forward to meeting you.
---
Posts: 89
Joined: June 16, 2015
Location: New Norway, AB
Thanks: 4
Thanked: 11 in 10 posts
---
Got it.
__________ Sat Jan 30, 2016 5:48 pm __________
Here are some photos of today's Bird and Rabbit show in Wetaskiwin.
This first one is a panoramic that I hope works here.

These next 2 are taken around the rabbit showing area.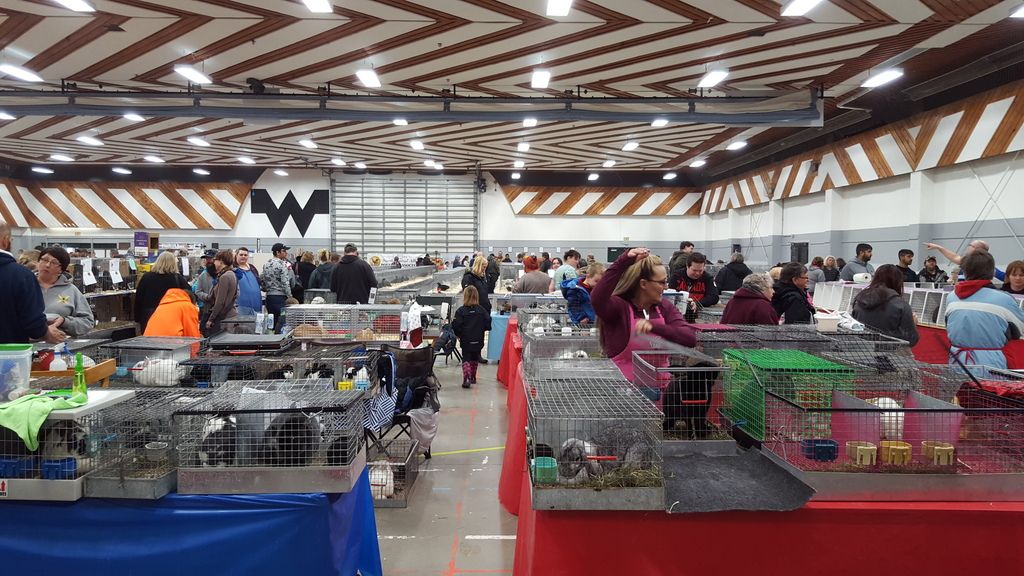 This next one is the "petting zoo". My youngest daughter is in the center wearing the pink pants and kneeling.
Here is another pic showing some of the birds. I was amazed at how many breeds of pigeons existed. My wife is the one with the black coat and scarf standing next to our friends who raise geese, ducks and chickens.
Sorry Preitler, the "buy and sell" section really didn't exist. The animals for sale were fairly dispersed among everything else.
__________ Sat Jan 30, 2016 5:55 pm __________
Nice meeting you Schipperkesue. 3mena, I had no idea who you were but it is a good chance we chatted today. I wore the camouflage hat with a brown zip up hoodie.
---
Posts: 167
Joined: January 28, 2016
Location: 60km's east of Vernon, British Columbia
Thanks: 0
Thanked: 22 in 22 posts
---
Did you enjoy it Knacker?

We go the IPE every year (Interior Provincial Exhibition in Armstrong BC) and there isn't a huge rabbit area either... you'd think there would be since there happens to be tons of breeders around(or at least seems to be) this past year there was maybe 15-20 rabbits... mostly drawf sized.. lots of broken colours. anyways.. I also like to hear about how other shows go.

There is a a few Poultry and Small Animal sales in my area.. we used to just go for the birds (chickens) but now we may go for the rabbits too.
Working on my little homestead...
13 chickens, 4 muscovy ducks, 4 kids, 2 cats and 1 dog. 5 rabbits! 1 Cali/NZ doe, 1 Giant Chinchilla/Flemish Cross Doe, 2 Flem/NZ cross does, 1 Flem/NZ cross buck!
---
Posts: 89
Joined: June 16, 2015
Location: New Norway, AB
Thanks: 4
Thanked: 11 in 10 posts
---
We definitely enjoyed it and so did our girls. They spent most of the time in the petting zoo.

There seemed to be around 200 rabbits showing (maybe less, a lot of rabbits though) and many breeds. There were no d'argents present as we hoped but we were lucky to find at least one breeder who raised them and had a good conversation. I was also able to help out one couple who were raising meat rabbits.

My wife and I are not sure if showing rabbits is for us but we are very interested in getting our girls involved with 4-H using rabbits as a medium. Having the ability to ask a lot of people involved in showing was a great eye opener in what we as a family could expect.

I also ran into an old friend that I haven't seen since '95, so that was nice.

I have to say the entire show was a great experience. Our friends thought so too.
---
Ferra

Site Supporter
Posts: 189
Joined: November 13, 2016
Location: Alberta, Canada
Thanks: 38
Thanked: 41 in 31 posts
---
Sorry to raise this from the dead...

RabbitTalk people who have gone to this show: would you recommend a particular weekend day for seeing the most variety of rabbit judgings?

I would like to go this weekend, but I can only attend one of he two days.


Thanks!
---
SarniaTricia

Site Supporter
Posts: 717
Joined: August 18, 2016
Location: Amherstburg, Ontario
Thanks: 142
Thanked: 152 in 138 posts
---
I don't know about this show in particular.... but anytime I have been at a show in the US, the most rabbits are in the first show.

The US shows have 100s of rabbits in one breed... so this is a really nice little show.
I was at a small show in London Ontario and there was just over 100 rabbits.... quick and educational show (my first)

THE Best thing about the shows are the people!
Bring a chair ---- I have a posted an article about what to do/expect at a rabbit show and did a rundown of what I pack to make it enjoyable.
people watch, talk to breeders of all types of rabbits... you never know when you find out something new about a breed that you didn't know.

Have fun!
---
Who is online
Users browsing this forum: No registered users and 1 guest