Posts: 377
Joined: September 15, 2010
Location: Hawaii
Thanks: 19
Thanked: 125 in 102 posts
---
Aloha Rabbit folks!

I'm confused about the Agouti gene. It seems to be a dominant, so one would expect it to be shown on the animal's coat if it is in the genes at all. So, the dominant "A" of Agouti can't hide behind the "a" gene. If one breeds a Blue Tortoiseshell "aa" to a Black - another "aa", is it possible to get an "A" agouti? That would require an "A" from somewhere, yet looking at this new rabbit's pedigree, it claims the doe is "Chestnut Agouti" and her sire is a "blue tortoiseshell" and the dam is "black". So is it possible for this to truly be an agouti rabbit? Wouldn't a dominant "A" have to show up from somewhere?

The rabbit is in transit at the moment, but she will be here tomorrow and I will be able to look and see if the colors are actually banded with black tipped guard hairs and the rest of what chestnut agouti is supposed to be.

This genetic stuff is very tricky!

A hui hou!
---
Posts: 513
Joined: February 21, 2010
Location: Georgia
Thanks: 6
Thanked: 27 in 27 posts
---
Blue tort X self black can't create agouti- you are correct. I wonder if the blue tort isn't an opal or something like that that they had mistakenly thought was a tort? I can't imagine how they could confuse a solid black rabbit, ya know? Even if it was a self chin it wouldn't produce agouti. On the bright side, a chestnut angora is very easy to determine even in full coat, so hopefully the mystery will be solved soon.

Best of luck!

Lauren
---
Posts: 377
Joined: September 15, 2010
Location: Hawaii
Thanks: 19
Thanked: 125 in 102 posts
---
Nope, not very agouti. What color would this be? There is the white/tan around the eyes and ears - sort of - but I don't see color bands anywhere so the "agouti" should be tossed out the window. Her parents are listed as "Blue Tortoiseshell" aa B_ C_ dd ee and Black aa B_ C_ D_ E_ so I don't see any agouti anywhere. Not in the pedigree, not on the rabbit, but what is she? Is this tortoiseshell?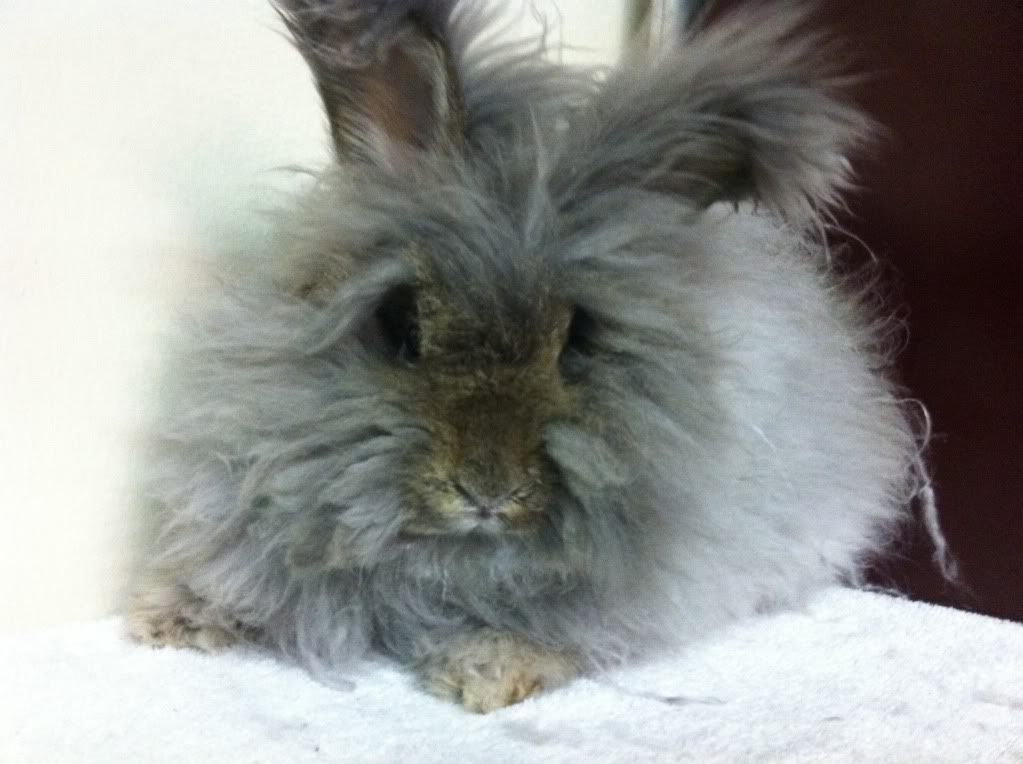 ---
Posts: 513
Joined: February 21, 2010
Location: Georgia
Thanks: 6
Thanked: 27 in 27 posts
---
She looks like a chestnut agouti to me from this picture. On the English when they are young it is really easy to tell colors, but as their wool comes in sometimes it becomes much more difficult. Here is a youngster from one of my previous litters as a little guy for comparison:
And here is an older chestnut doe that I used to have as her wool is growing in:
Unless it is the lighting or something weird, it looks like your girl has the agouti ear and nose lacing and if you see the ring around the eyes then that is another classic agouti sign. What color is her belly? Does she have an orangy-brown color behind her ears? If you blow into her coat do you see any banding whatsoever? In some lines the bands are not very distinct, but the wool won't be all one color either.
Another possibility I just thought of is that the black on the pedigree might be hiding steel and this doe could potentially be a gold-tipped steel? I would be surprised though because a steel shouldn't have agouti pattern markings, ya know?
In the meantime here is a link to some color pictures. Maybe you can talk to the breeder about the parents and they can send you close up pictures or something to help you make your determination:
http://www.bumblebeeacres.com/EnglishAn ... Colors.htm
Best of luck!
Lauren
---
Posts: 377
Joined: September 15, 2010
Location: Hawaii
Thanks: 19
Thanked: 125 in 102 posts
---
Oh good! I guess I should have paid attention to the eye rings and not paid attention to what seems like only gray wool. I was hoping for some agouti for hopefully future fawns. This isn't my rabbit, it's my neighbor's rabbit, but I'll be able to get a buck from her for my herd. We just got these rabbits in yesterday evening and everyone has been busy with Christmas and all so I haven't had much time to visit and check for coat color rings.
---
Posts: 7535
Joined: December 26, 2009
Location: near London, Ontario
Thanks: 46
Thanked: 821 in 698 posts
---
when I look at her I think chestnut.
---
Posts: 1438
Joined: December 20, 2010
Location: Alaska
Thanks: 6
Thanked: 62 in 52 posts
---
It could be a chin, similar in appearance, but not agouti
---
Posts: 1895
Joined: January 6, 2010
Location: North Simcoe Ontario
Thanks: 51
Thanked: 136 in 118 posts
---
It is an agouti- chestnut. Chin is also agouti only with tan/red suppressed. The rabbit in question is chestnut though. nice!
---
Posts: 549
Joined: April 29, 2010
Location: Alaska
Thanks: 18
Thanked: 12 in 12 posts
---
Congrats on getting some new buns out there HotzCatz! Who did she end up coming from?

I remembered a few minutes ago that you get some agouti when breeding red to black, I suppose Tort would be the same. Beyond that, though...sorry. Explanation is beyond me, but she certainly is pretty!
---
Who is online
Users browsing this forum: No registered users and 3 guests