Posts: 7383
Joined: December 26, 2009
Location: near London, Ontario
Thanks: 43
Thanked: 743 in 642 posts
---
Located near London, Ontario.
All does one year or less in age.
RockFall
Easy, easy easy going girl, nothing fazes except being put with a buck. Then gets shy and stubborn. Does best if runs with a buck for a week, usually kindles mid-week 30 days later. Raises her litters well. good mother. ASKS to be pet.
WhiskerSong
Small doe, raises five kits well, six if pushed a bit. Kits all turn out with calm, very easy going temperaments, with the boys being early out of the nestbox. Just a quiet easy going girlie. She's NOT black though she looks it. when a baby was a sepia toned bunny.
SunDrop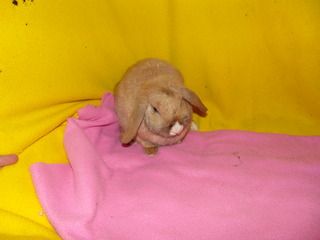 Love this little doe, she's a great mom, easy going with her kits. Her kits are always little bundles of energy. She is blue-eyed and VM. Small doe. She's been a step up for me but my lad, given a choice between her and DaisyHawk, chose to hold Daisy back.
---
Who is online
Users browsing this forum: No registered users and 1 guest